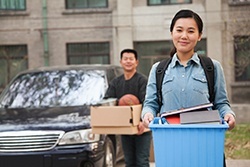 At home, your family is exposed to the risks of robbery, fires, weather damage, and car accidents, among other things. When your young adult heads off to college, the same risks exist, even when they live on campus. It is important to understand your insurance policies to know what is covered and where there may be gaps.
When you think about risks for college students, those associated with off campus living and activities often come to mind. But do not overlook the risks present with living on campus. As positive as you may feel about the on campus setting and how it seems like a close-knit community, things do happen. Non students can often manage to get access to housing areas too. Proper precautions are needed.
Consider, for example, a university where football is popular. Many students may not think much about locking their dorm room doors when spending time in other parts of the building. But when football weekends roll around, guests are everywhere! Even if the dorm requires card or code access to enter the building, with so many people coming and going, these guests can easily get into the dorm – so what is stopping them from entering dorm rooms?
Understand Your Coverage
Insurance carriers handle coverage for college students a few different ways. If the child is a full-time student under the age of 24, and resident of his/her parents' household before attending college, their personal property may be covered under the parents' homeowners policy. Pay attention to the details of this coverage – is it based on a percentage of the total personal property limit or is it simply included in the parents' total?
Other carriers have a specific endorsement that can be added to your homeowners policy. Some policies may not extend coverage or have the ability to extend coverage at all to students' personal property. In those cases, a renter's insurance policy would be recommended. Review your policy with your insurance advisor to understand what coverage exists for your college student.
Make An Inventory Of Personal Property
Just as with your own home, it is beneficial to put together an inventory of the items your child is bringing to school. Snap photos of their electronic gear, record the serial numbers, and store receipts in a safe location. If a loss should occur, you will be prepared with the necessary documentation. This will also help you understand how much coverage is needed to protect your child's possessions.
Computers and Electronics
Aside from recording the serial numbers for your student's computer and electronics, discuss the physical security and safety of technology with your child. Do not leave laptops alone in open study spaces. Use protective cases to carry laptops around campus, do not throw them into a purse or backpack without proper padding. Keep dorm room door locked at all times to protect electronics.
Additionally, make sure your student is taking precautions to protect the data on their computer. Password protect electronic devices. Use anti-virus software; the school may have offer free or reduced anti-virus protection. Consider backup options for their files. Use surge protectors to avoid sudden computer shut downs and the loss of a research paper.
As your student packs up for college, make sure you are working on your own checklist to help properly protect their possessions.