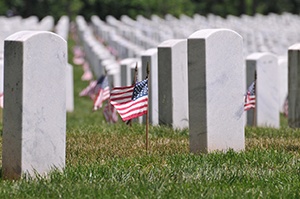 While many of us think of Memorial Day as the start of summer, it most importantly is a day to remember those who died in active military service.
Memorial Day was originally called Decoration Day. In 1868 Maj. Gen. John A. Logan established Decoration Day as a time for the nation to decorate the graves of the war deceased with flowers. It was to be observed every year on May 30th.
The first large observance of Decoration Day was held that year at Arlington National Cemetery. During the celebration, former Union Gen. and sitting Ohio Congressman, James Garfield made a speech. Afterwards, 5,000 participants helped decorate the graves of the more than 20,000 Union and Confederate soldiers buried there.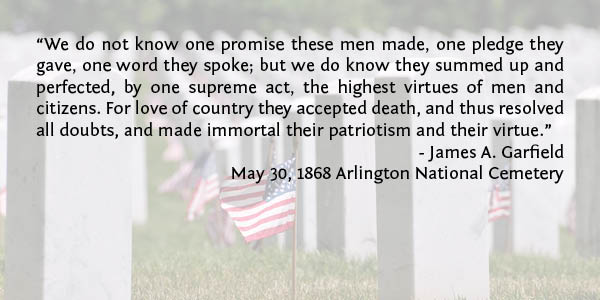 ARLINGTON NATIONAL CEMETERY
Arlington National Cemetery is the final resting place for more than 400,000 active duty service members, veterans, and their families. On Memorial Day, the U.S. Army Military District of Washington conducts a Presidential Armed Forces Full Honor Wreath-Laying Ceremony at the Tomb of the Unknown Soldier. This ceremony is always attended by either the President or Vice President of the United States.
For more than 60 years, the 3rd U.S. Infantry Regiment (The Old Guard) has honored America's fallen heroes on Memorial Day. Every year they place an American flag at the headstone of those buried at both Arlington National Cemetery and the U.S. Soldier's and Airmen's Home National Cemetery.
MEMORIAL DAY FACTS
In 1968, Congress passed the Uniform Monday Holiday Act and established Memorial Day to be celebrated on the last Monday of May. This Act officially took effect in 1971.
It is requested from the President that on Memorial Day all governors of the United States and the Commonwealth of Puerto Rico direct the flag to be flown at half-staff until noon on all buildings, grounds, and naval vessels.
In 2000, President Bill Clinton signed the National Moment of Remembrance Act. It asks Americans to pause and observe a National Moment of Remembrance at 3:00 p.m. local time. Several organizations throughout the country that observe this moment include: Amtrak (whose trains blast their whistles), Major League Baseball, and NASCAR.
On Memorial Day, we want to thank the men and women of our Military and honor those that gave their life for our country.