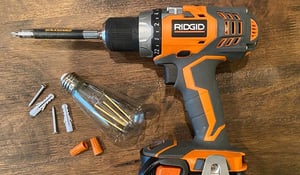 The other weekend I took down and replaced a light fixture in our bathroom. For some, this may seem like nothing or just an average weekend project, but for me, it was one of many new things I have learned how to do and conquer on my own. Six months ago it would have been one of many items on my husbands 'honey-do list' as I typically try to avoid tasks where I can get shocked or zapped!
Leading up to my husband's deployment I read a lot of blogs, received a lot of advice and encouragement from other spouses, and I kept hearing over and over again that while your spouse is away you will realize how truly independent you are and all of the things you are actually capable of. I shrugged these comments off as I have always been able to hold my own. I have never shied away from yard work or panicked when the dishwasher broke.
As I sat back and admired my handiwork and new vanity light, I realized that all of those blogs and other wives were right. I have learned how to do and accomplished so many things these past few months that I never would have tried even a year ago. I am far more than capable than I ever gave myself credit for, so why has it taken me so long to give it a shot and figure these things out?
Fear and self-doubt often hold us back from tackling new things and pushing ourselves to try what we once thought was impossible. With each home project, I became more confident and took on an even more challenging one the next time.

What's The Risk?
So often we have this same mindset in our professional lives. It's not that we don't work hard and set goals, it's just easier to be content with what we know. But what if we simply pushed ourselves to try that one new thing which would lead to another and another? What if we set that self-doubt aside? How much potential or how many opportunities could we unlock if we shifted our mindset and tackled that seemingly daunting task?
While my husband being away on deployment forced me to figure out how to replace a light fixture if I wanted it done, I am now aware of the opportunity to make a conscious decision to cast aside that self-doubt both personally and professionally, try new things and unlock a whole new level of potential.