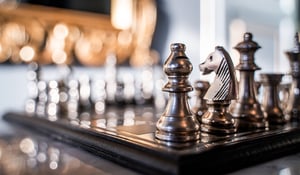 Growing up in the world of sales, and especially cutting my teeth during my formative years at an incredibly sales-centric organization, I was taught to greatly dislike my competitors. You might even say from time-to-time that I "hated" them. I suspect many can relate to this.
I was coached to never be around or hang out with the competition. I believe the exact quote was, "They can't buy any insurance from you, so why would you spend time with them?" I didn't know why I disliked them, just that I did.
However, as I've studied and learned more about the infinite game, I've realized that is not who I am. My natural mindset is one of abundance. And being someone who is quite resilient and always focused on the long game, I've really connected with Simon Sinek's
Infinite Game
.
Yet unwinding years of training, observation, and mimicking my more experienced sales colleagues took some hard mental work.
One of the key points in Sinek's Infinite Game is the value of having a worthy rival, someone or some organization that helps you realize and see your weaknesses. As he points out, the goal of an infinite game is not beating your competition, it's to outlast them. And just because a historical competitor drops out of the game doesn't mean you've won. You just need a new rival.
The great thing about a worthy rival is that you don't have to like everything about them. Frankly, you don't have to like them at all. But you respect them for something or multiple things they do better than you do.
Looking back, I now realize I've often performed at my very best when I've had a worthy rival, not a fading competitor.
Although Sinek speaks mostly about rivals being organizations like Apple and IBM, and later Apple and Microsoft, and now Apple and Google, it's just as relevant on a personal level.
It could be a colleague you admire greatly, and compete with in a friendly manner. They inspire you to become better, to continue working at it, staying in the game, and never quitting.
Nowadays, with a lot more maturity, I seek out our competitors. (Whoops, I mean rivals). In doing so, I've learned so much - about our organization and myself. I've accepted and leaned into the idea that I can believe fully in our mission, our values and the work we do for our clients and still admire parts of what a long-time rival has done way better than we have.
I've also realized that over the years, I missed out on getting to know some great people. Turns out many of our supposed competitors are great sources of inspiration for me. They're facing all the same issues that we are. They've found some creative ways to solve problems that we haven't thought of or implemented. Who better to learn from?
Besides, unless you're in the defense sector, very few of us have businesses in which we are truly guarding nuclear secrets. So the idea of your secret recipe slipping into the hands of an enemy is way overdone!
What's The Risk?
Stop missing out on perhaps the greatest source of improvement for you and your organization. Schedule coffee or lunch with your crosstown rival. Talk, get to know them, break bread. And come with an open mind. You'll definitely learn something new and you might just make a new friend.