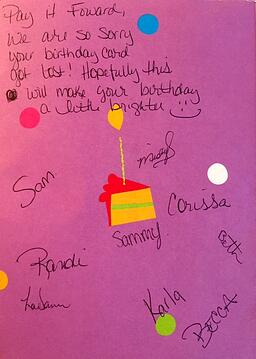 Ralph Waldo Emerson once wrote,
"In the order of nature we cannot render benefits to those from whom we receive them, or only seldom. But the benefit we receive must be rendered again, line for line, deed for deed, cent for cent, to somebody."
A few weeks ago the awesome staff at Callahan's Restaurant in Elkhart, Indiana, put into motion just such a "rendering of benefits". It all started when we met my in-laws at Callahan's for a Sunday brunch to celebrate my son Jack's thirteenth birthday. My mother-in-law gave Jack a special card and inside was a one hundred dollar bill. As his Mema said, you only turn thirteen once.
Jack is a big fan of breakfast. I contend his order – named the Chunky Monkey – put him into a food coma. My wife thinks he was distracted by his cousin. Whatever the cause, Jack left the restaurant without his card and $100 bill. We didn't discover it until a few hours later when my wife asked to see what Mema had written in his card. It was then that a look of deep despair came across his face.
Instantly I was mad. I decided if nothing else, Jack would learn a painful lesson about responsibility and appreciation. I made him call the store manager.
Her name was Karla and she was very kind and empathetic. She agreed to look for the card and money. She told him they would go through the trash and check with staff. Karla called me a few days later and said they had been unable to find it. I appreciated their effort. It wasn't their fault. After all, my thirteen year old should never have let this happen.
"I still can't believe I left the card behind," Jack said. "I mean, it was a hundred dollars. Kids don't get a hundred dollars that often. So to lose it made me really upset. But I felt really bad about losing it because it was from my Grandma."
But the next day I got a surprise call from Karla. She said, "Me and the staff feel awful about your son losing his birthday money. We decided to pool together and try to replace his Grandma's gift. So if you can bring him in, we'd like to give him a new card."
I have to admit that I got a little choked up as I listened to her words. I spent a year in college waiting tables. All I could think about was the staff giving their hard earned dollars to a thirteen year old boy that probably didn't deserve it. I knew any money they had pitched in for Jack came at the expense of something else they were working for. I thanked Karla and told her we would bring Jack by the restaurant.
I called him right away and broke the news to him. He was excited if a little unsure about what this meant. I could tell his spirits were lifting. "Dad, do you think they actually put together a hundred dollars for me?" I told him I doubted it was that much but it doesn't take away from such a kind gesture.
A few days later Jack went to see Karla. She handed him a new birthday card. Karla said, "There is a little more in here than what was in your Grandma's card."
Jack was blown away and couldn't really talk. He thanked her and told her they shouldn't have done this for him. My wife teared up and gave her a huge hug.
When Jack got in the car, he opened the envelope. Inside it read, "Pay it forward. We are sorry your birthday card got lost! Hopefully this will make your birthday a little brighter."
Jack noticed the stack of twenty dollar bills in the card. "I counted to five twice and there was another one left. They gave me $220!" He asked Mom, What do we do?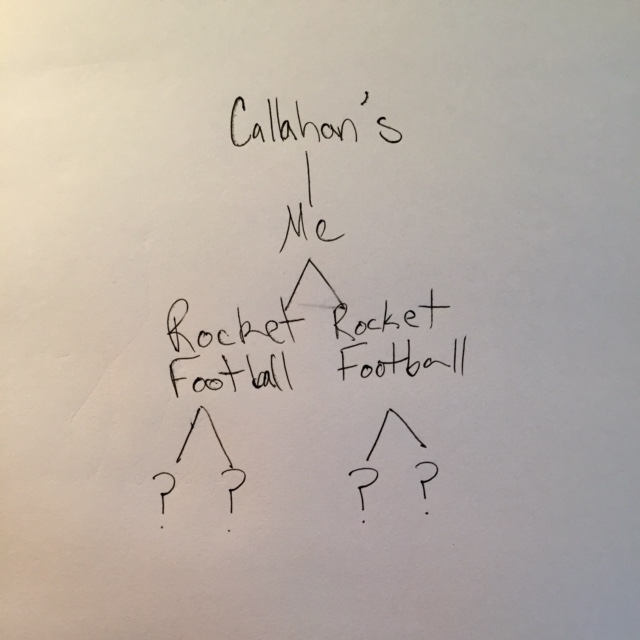 That was the question. As Ralph Waldo Emerson put it, it's really tough to repay those we owe, but that doesn't stop us from owing it. Jack asked what it meant to "pay something forward." We did our best to explain. He thought about it for a few days and decided to donate $180 to the local youth football league he used to play in. That will cover the annual registration fee of $90 for two kids who don't have the means to pay it.
As for the other $40? "I'm going to Callahan's and getting a steak and egg breakfast!" exclaimed Jack. "Whatever is left is going to my waiter or waitress. They deserve a big tip day!"
They sure do, Jack.
What's The Risk?
The risk is dwelling on the negative. In this case it was my son's irresponsibility (which is pretty normal in thirteen year olds). I was focused on losing $100. The sweet people at Callahan's were more concerned about lifting a young boy's spirits.
It's easy to miss the essence of what Emerson said. You really can't ever pay someone back. Think about it. Can you really ever make things square with your parents, teachers, coaches, and others who looked out for you? But that doesn't mean we don't owe it line for line, deed for deed, cent for cent. And it doesn't mean we can't try.
So to Karla, Sam, Randi, Misty, Corissa, Beth, Becca, Sammy, and LaDawn, with your amazing act of kindness to a thirteen year old boy and your inspirational message of "pay it forward", I thank you from the bottom of my heart. Instead of continuing to project my disappointment on my son for being a little absent minded, you showed us how to turn it into something good.
Right about now Jack would have been using that $100 to get a new Nerf gun or add to his already sizeable collection of Nikes. Instead, two boys in his town will have the chance to play Rocket Football this summer.
And despite what Emerson said about not being able to directly repay someone, I'd sure like to try. Would you join me in visiting Callahan's sometime over the next few weeks? The food is great so I'm not asking too much from you. Give your wait staff their normal tip when you settle up. Then help pay it forward by digging deep and leaving a little something extra. Tell them Jack sent you.