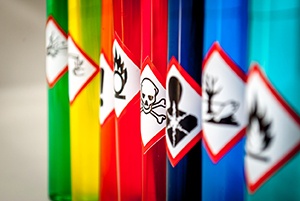 National Poison Prevention Week is always the third week of March. It's an opportunity to emphasize the dangers of poisoning for people of all ages and highlight prevention strategies.
Poisoning is a leading cause of death in the U.S. In 2016, 55 Poison Control Centers (PCCs) served 323 million people nationwide. They managed 2.7 million cases via telephone, of which 2.2 million were about people coming into contact with potentially dangerous substances. On average, a call is made to a PCC, every 12 seconds.
5 Most Common Poisons By Age
Children
Cosmetics & Personal Care Products
Cleaning Substances
Analgesics
Foreign Bodies/Toys/Misc
Topical Preparations
Adults
Analgesics
Sedative/Hypnotics/Antipsychotics
Antidepressants
Cardiovascular Drugs
Cleaning Substances (Household)
Tips To Help Prevent Poisoning
Children
READ the label before you give medicine to a child. Use the right dosing cup, measuring spoon, or syringe. Put the cap back on tightly.
Lock up medicines and household products where children can't see or reach them. Child-resistant closures are not child proof!
Keep button batteries where children won't find them.
Store medicines and products in their original containers.
Watch children carefully outdoors. Some plants and wild mushrooms are poisonous.
Install carbon monoxide alarms in the hallway near every sleeping area in your home.
Adults
Read the label and follow the directions for every medication.
Take only your own medicine! Take the right amount at the right time.
Never mix products. Poisonous gases, explosions, burns, or fires may result.
Keep household products away from food and medicine.
Never burn charcoal or use gas-powered tools or engines indoors.
Never leave a car running in an attached garage, even if the garage door is open.
Seniors
Tell each of your doctors about EVERY medicine, vitamin, or herbal supplement you take.
Keep household products away from food and medicine so they aren't mixed up.
First Aid For Poisonings
If an individual collapses, has a seizure, has trouble breathing, or can't be awakened, call 911.
Before seeking help from Poison Control, first try these first aid measures that make a difference if accomplished within seconds to minutes of the poison exposure:
Swallowed poisons: Drink a small about of water or milk immediately if the product swallowed is burning, irritating, or caustic AND the person is conscious, not having convulsions, and able to swallow. Then get help from Poison Control.
Poison in the eye: Rinse the eye immediately. Every second matters. A delay could result in loss of sight. Remove contact lenses. Use lots of room temperature water and irrigate for at least 15 to 20 minutes. Encourage blinking. Then get help from Poison Control.
Poison on the skin: Rinse the skin immediately. Remove contaminated clothing first. Don't delay. Every second matters. Use lots of room temperature running water. For large spills, adults and older children may find it easiest to hop in the shower. Use mild soap to remove material that sticks to the skin. Important: Rinse for at least 15 minutes. Then get help from Poison Control
Inhaled poison: Move to fresh air immediately. Stay away from toxic fumes and gases.
Once first aid has been given, call Poison Control at 1.800.222.1222 OR use the webPOISONCONTROL® online tool for specific recommendations based on age, substance, and amount.
Poisonings are avoidable. Be aware of hazards that lurk around your home. Items that we use every day, and consider safe, can be harmful in the wrong hands.