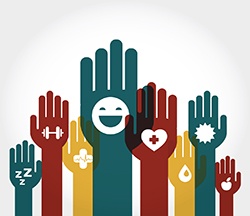 The new year has arrived and with it our good intentions. We resolve to lose weight, quit smoking, get organized, go to the gym, you know the drill. Unfortunately, by the time February rolls around, the resolutions are a distant memory and feelings of failure begin to set in. Sound familiar?
This year, try something different. Resolve to be a healthier you. Set small goals. Simple goals. Realistic goals. For instance, instead of resolving to go to the gym 5 days a week for 45 minutes, set a smaller goal to move more. Then make a plan for how you're going to get there. For example, for every 60 minutes spent sitting, get up and move for 5 minutes.
Resolve to be a healthier you for the entire year, not just the first few months. A healthier version of yourself is not only a benefit to you, but also to your family, friends, and coworkers. When you take care of yourself, you will feel better, happier, and more productive.
Here are some suggestions for how you can resolve to be healthier this year: