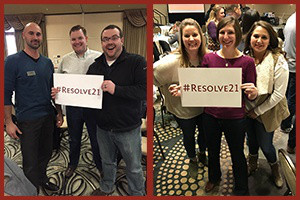 How do you create a new wellness initiative for your organization? What should you be considering before launching the effort? What strategies should you be using to make it most effective and engaging to your workforce?
At Gibson we recently launched a new wellness initiative called Resolve21. It is a 21-day challenge where employees can make a personal goal and work to achieve that goal. This is just one example of a wellbeing initiative; you could be considering a financial wellbeing class, a walking club, or many other ideas for your organization. But the foundation for choosing a new wellness initiative and the strategies for making them effective remain the same. So using Resolve21 as an example, let's look at three important factors to consider when starting a new wellness initiative…


Know Your People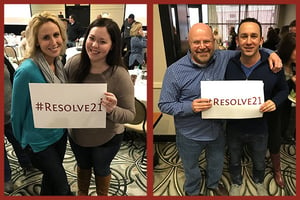 First and foremost, you need to know your people. Everything doesn't work for everyone. Some people will be excited to participate in a challenge like Resolve21, while others will not even consider it for a minute. The foundation of any wellness effort needs to begin with understanding the demographics of your workforce. What is most important to your employees? What are their wellbeing priorities? What learning styles work best with them? Will different generations respond in different ways? Do you have remote employees who may feel left out if the initiative is based heavily on in-person activities? Perhaps you could conduct an annual survey to find out what your people are seeking in the company's wellbeing efforts and answer some of these demographic questions.
In deciding to embark on the Resolve21 initiative, we took a look at our most recent wellbeing survey results, as well as how past wellbeing efforts went, and discussed different ideas with our wellbeing team. As an organization we wanted to make sure our wellbeing efforts were employee-centric--focused on our individual employees' needs and wants. So combining that desire with the feedback we received from our people, a program like Resolve21 seemed like a great fit. We knew not everyone would be interested in participating, but felt that a majority of our people would be drawn to the program.


Communication Strategies
How are you going to launch the initiative? How are you going to get your people excited and interested in participating? What resources can you provide to explain the effort to them? How are you going to keep your employees engaged throughout the initiative? Before kicking off a new wellness effort, it is important to think about what communication strategies should be employed.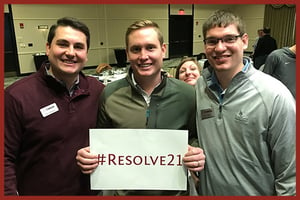 We launched Resolve21 at an All Agency Retreat in January due to a few key factors. We knew we'd have our largest possible audience at this meeting. And it was early in the new year, a time when people are often thinking about resolutions and goals, which aligned with the Resolve21 challenge. When introducing the program, we used a few different methods to share the information in order to gain the attention of both visual and auditory learners – our wellbeing team spoke to the group, describing the program with the help of PowerPoint slides, a 1 pager was passed out to the audience, and an email with an overview of the initiative was waiting for them in their inboxes when the meeting was over.
Your communication efforts shouldn't end with the launch. You need to keep communicating with your employees so that you can keep the program on their minds, answer any questions, and offer tips for success. The form this communication takes will vary based on your audience and the program itself. For example, throughout the 21 days of the challenge, we'll be sending out emails with encouragement and tips to help everyone succeed with their goals. We know our workforce relies heavily on emails, so that will be our main form of communication, however we might also consider posting signs in common spaces, such as the kitchen and resource rooms, to help remind employees about the challenge in a different format.


Finding The Right Balance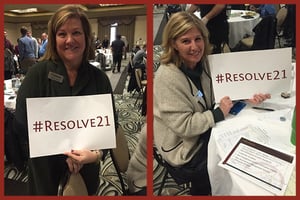 With any wellness initiative, you need to find the right balance. You want to create something that is meaningful to your employees, but isn't too much of an administrative burden for you. Know ahead of time how you'll quantify the program's successes and failures, as well as the methods you'll use to track employee participation. The more prepared you are, the less likely you are to feel overwhelmed.
You don't have to jump all in at once. Perhaps start with a small-scale version of an idea, see how it goes, make adjustments, then launch at a larger scale.
We knew we wanted to focus on individual goals, but rather than trying to look at long-term goals and big challenges, we decided to start small with Resolve21. As an organization it is a short-term program – manageable for us to run, yet still long enough to be meaningful. And for our people, choosing to focus on an actionable goal for just 21 days is a small way for them to begin their personal wellbeing journey.
As you look to implement your next wellbeing initiative, keep these 3 factors in mind – know your people, plan your communication, and find the right balance. And stay tuned for an update after the culmination of our Resolve21 initiative – we'll let you know how it went and how we'll evaluate it for information helpful to the planning of future workplace wellbeing efforts!