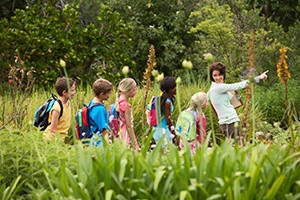 Nothing ever becomes real till it is experienced. - John Keats
Books and lectures can only get students so far. The best education for students of all ages incorporates experience outside the classroom—experience that makes what they're learning "real." And field trips are one of the best ways to get students out of the classroom.
Field trips also expose students to increased risk. Students must be transported and monitored in environments teachers don't and can't control in the same way they control their classrooms. To assure these risks don't become bad experiences, schools must be committed to risk management around field trips. Here are a few risk management strategies that can help make field trips a positive learning experience for students.

Transportation
Will students get there via school-owned vehicles, charter buses, or private vehicles? School-owned buses are generally the safest option. For charter buses you should make sure the company has appropriate auto and general liability coverage and you ideally want to request to be named an additional insured on their policy. Private vehicles should be avoided as much as possible. And 15-passenger vehicles should never be used to transport students.


Supervision
Who will be supervising the students – school staff, parents, volunteers? Just as you would require proper screening for volunteers coming into the school, all chaperones should also undergo screening. Additionally, make sure you have an adequate number of chaperones. In general, you should have more than one chaperone, at least one school employee as a chaperone, and a chaperone of each gender if the trip includes both boys and girls.


Parental Consent
A parent or guardian for each student should sign a permission form that consents to the student attending the trip and authorizes trip leaders to obtain medical treatment for the student in case of an emergency.


Safety Precautions
The adults on your trip should be prepared to deal with emergencies or issues—things as serious as medical emergencies or missing children, as routine as discipline problems, or as "boring" as broken-down buses. Your school should have field trip guidelines that include basic emergency action plans and direction on reporting incidents. Someone should have a stocked first aid kit and a supply of water available. At least one chaperone should be first aid certified. All chaperones should have each other's cell phone numbers. And before setting off, they should discuss the school's guidelines and what to do if an issue arises.


What Kind Of Field Trip?
In addition to the basic risk management strategies discussed above, you should consider whether the type of field trip you are organizing requires more specific safety measures. Consider the following:
Nature Of The Activities – What will students do on the trip? Will it include some inherent risks? For example, if you are traveling to a camp where there will be a high ropes course, you should consult with your attorney about including language waiving the school's liability for those activities.
Third-Party Involvement – Have you contracted with any third-parties, such as the camp or a charter bus, as part of the trip? You should make sure they maintain appropriate types and amounts of insurance. Depending on the nature of their services, consider whether you should confirm background checks on their employees.
Out-Of-State Travel – Will you be traveling out of state? Double check your school board policies as some policies have restrictions on where school-owned buses may travel.
Out-Of-Country Travel – Foreign trips require extra attention. Keep in mind these risk management considerations if you are planning any out-of-country travel for students.
Overnight Trips - An overnight trip requires additional planning and considerations such as appropriate and sufficient supervision and sleeping arrangements. Students may also have special needs that wouldn't necessarily arise on a day trip. For example, if a student needs medication, you will need somewhere secure to keep it, a person qualified to dispense it, and additional parental permission to use the medication.
Field trips don't have to be riskier than the classroom. With a little preparation and attention to risk management, you can alleviate much of the worry that comes with taking a group of children out of the classroom. And you can help your teachers and students focus on the experience that makes their education real.