Today we're sharing insight from guest blogger Karen Moscato. We hope you enjoy Karen's wisdom and perspective.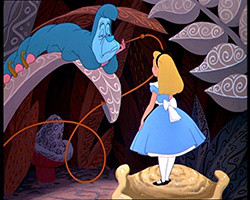 "Who are you?" said the Caterpillar. Alice replied, rather shyly, "I - I hardly know, sir, just at present - at least I know who I was when I got up this morning, but I think I must have changed several times since then." --- Lewis Carroll Alice's Adventures through the Looking Glass
Would you answer as Alice did?
In this world of constant change, we know who we are when we get up in the morning, but by evening we might have gone through several changes. Be it a loss of relationships, changes in home life, personal changes, work and financial changes, or many other issues. Thanks to technology, sometimes we receive multiple changes during the course of a day.
If you doubt my premise of being in constant change, think back on all the events that brought change into your life last year. As you think back on those changes, they usually are clearly marked by an ending, followed by a period of confusion and distress leading to a new beginning. It's in these new beginning that we have let go of the past and embrace the new.
Alvin Toffler truly defined our current world in Future Shock when he wrote, "Change is avalanching upon our heads and most people are grotesquely unprepared to cope with it." How prepared are you? Or in this advanced world of ours, can we ever be truly prepared for the changes that fall upon us daily?
In my readings I came across a blog by Mike Kotsis from EOS in which he writes about 3 Critical Questions to Evaluate Underperforming Employees. This led me to reflect on how we might be underperforming in life. Change hits us daily and at times overwhelms us. We may be in a state of perpetual grieving for what was and is no more.
To help us all out, I have taken the liberty to re-purpose Mike's questions to center around underperforming in life. After all, life is all we have for a few years. So let's explore these questions:


Do You Get It?
Ken Robinson wrote a book called The Element. His definition of getting it goes something like this: "Get it is aptitude; or the natural ability for something. An intuitive feel or grasp of what (the job) life is, how it works and how to do it."
I don't think we would be born without a natural grasp of what life is and how precious each day is. But as we grow and live through experiences, we may become jaded. We may lose our sense of how life works and how to cope with challenges. So in order to get it you need to practice these two words: Let go. Letting go opens up that wonderment again. It allows for new experiences and new opportunities. In order to keep getting it you have to keep letting go.


Do You Want It?
Sure, no one wants cancer, car accidents, job losses, or any of the negative experiences that go along with living in this imperfect world. But do you genuinely step back and ask: Do I love my life despite this set back? Do I love where I am and where I am going? Do I wake up each morning and want to start the day? If not, then consider seeking support, be it from friends, family, or a professional. Life isn't 100% perfect, but it is short. Don't waste another day not wanting what is given to us so freely. There are plenty of professionals who can help you with letting go, embracing what you have, and creating the life that gives you energy!


Do You Have The Capacity?
As we age through the stages of life we face more limitations. Our bodies begin to change, our financial picture changes as we enter retirement, and our careers end. Our capacity for life in these areas needs to be constantly fine-tuned:
Emotional - You are self-aware enough to know how you are impacting people. This comes with reflection as well as seeking feedback and support from people you trust. That way your value never diminishes and your emotional health is strong.
Intellectual - You have the brains to solve life's challenges and critical thinking life requires. Stay on top of your thinking skills by engaging in intellectually challenging activities. This can range from learning a language to volunteering outside your comfort zone. Always learn something new!
Physical - You have the energy to finish what you start. Stay in tune with your body. Exercise! Moving creates a sense of wellbeing. It keeps your body in shape so your activity level doesn't drop as you age. In fact, it needs to increase.
Time - You have enough self-discipline to manage your time and to set your priorities in a proactive way so you're not always fighting fires. Fires come whether we like them or not, but always being in a stressful state is a reflection of not planning.
What's The Risk?
Without periodically reflecting on the above questions and making the necessary changes our answers demand, we will continue to answer the Caterpillar as Alice did, with uncertainty. Instead, commit to this occasional reflection so you can confidently answer the question "Who are you?"
This content was written and shared by guest blogger, Karen Moscato. Connect with Karen on LinkedIn and Twitter.