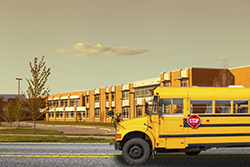 Active shooter incidents are scary. These stories flood the news and make us worry about the safety of our children. Yet despite its overwhelming presence in the media, active shooter incidents are not the highest cause of death in schools.
They are extremely serious matters. Schools should take steps to prevent active shooters and train staff on how to respond should an incident occur. But it is critical not to overlook the often quieter, more frequent causes of school fatalities such as school transportation, homicides, and suicides.
If you are calculating based on fatalities, the greatest risk a student faces is getting to and from school. According to a report by Stephen C. Satterly, Jr. in 2014, school transportation-related fatalities represent 37.89% of school related fatalities. Followed by: homicides, suicides, unknown causes, and then active shooter coming in as the fifth highest cause of school deaths.
The order may vary from study to study, based on how criteria and terms are defined, yet regardless of those intricacies the evidence clearly points to the need for comprehensive approach to risk management in schools.
The stories and incidents we hear in the news are alarming. The best way to protect your school depends on your specific risks, not necessarily the ones which garner the most media attention.
"In a perfect world, schools would have all the resources they need to make their students and staff safe. The reality is that schools are often faced with inadequate resources for safety. This makes prioritization of risks important." – Satterly, Jr.
As Satterly reminds us, schools do not always have the resources needed to completely mitigate every risk they face. So how do you best protect your school? It starts with properly assessing the risks of your specific environment. Then you prioritize and determine how to most effectively mitigate and manage them.
With Gibson's education and public entity focus, our team of risk advisors can help complete a comprehensive assessment for your school.
Active shooter incidents, homicides, suicides, transportation – each pose dangers to students, teachers, and staff. And who knows what additional threats might emerge in the upcoming years. The best way to address the risks inherent to your organization, and the risks the future may bring, is to begin with a comprehensive assessment.
If you find active shooter incidents as one of the greatest dangers to your school, please take a look at our blogs for tips and best practices. In the upcoming months we are going to dive deeper into some of the other top threats to students and discuss strategies for comprehensive risk management. Stay tuned!