Today we're sharing insight from guest blogger Mike Cahill, President & CEO of Physicians Health Plan of Northern Indiana. We hope you enjoy Mike's wisdom and perspective.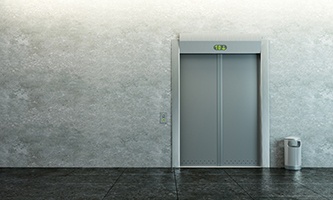 I was recently reading an article around the premise that you are the five people you surround yourself with. It suggests we are all positively or negatively influenced by our environment, which includes those we interact with regularly. I couldn't agree more. But most of the things I read surrounding this topic seem to fail to mention something, something that may be even more important.
Let me regress for a moment. How many times have you had managers who hate to see their very best employees get promoted, move departments, or leave the company? How many times do you see managers work to make sure they have developed the best team possible and then try and keep anything from changing? There is a lot of good in this - they create and develop high performing teams - but it treats certain conditions as a destination, not a continuous journey, which is a bad thing, at least in my mind. A few 'real life' stories:
I received a call from a recruiter when I was president of another company who was looking for a CFO. I told the recruiter I had a few people in mind, but I wanted to check with them before I gave their names out. I immediately went up to my Corporate Controller's office and told him about the opportunity. He looked at me a bit nervously when I said, "Look, I don't want you to leave and I believe you'll continue to advance here, but it would be selfish of me and the company to not make you aware of a potential career opportunity you fit the bill on just because you leaving would be a bad thing for the company."
I was in the interviewing process for a key position at my company. One of the top three candidates was also interviewing as a finalist for an amazing opportunity at a friend of mine's company. I found this out from the friend, not the candidate. I mentioned the opportunity to the candidate in our final interview. They looked startled and didn't know how to respond until I said, "This isn't a bad thing. I respect that company. And the fact you are a finalist there tells me I have judged you correctly as a great candidate for us as well. I just want what is best for both of us. If that job is better for you than mine, I want you to take it. We both win by having the best fit."
Finally, and most importantly, as a young CPA I decided I wanted to leave public accounting because of the travel and hours (I had started a family). I went to my manager and shared this with him. He asked when I would be leaving. I said I hadn't even sent out a resume yet and wouldn't start looking until after busy season, but I wanted him to know my plans. He then asked if I really meant I would stay through busy season and I verified that. This was a crucial moment, and the story that led to many, many conversations I've had with people in the 33 years since. Why?
Well, I did stay through busy season, and my honesty was rewarded by my employer lining up many job opportunities with clients they had. There were several good careers to choose from. In the end, I didn't take any of those jobs and instead found a different one that really interested me. However, that employer – Ernst & Young – has always stayed in touch and invited me to alumni functions. They looked to hire the best (I must have been the exception to the rule!), train you, push you, and help you move up or out. Out is also a way up. It is just an alternative route. It is a way to expand the network of talented, well-trained people. It shaped my world view at a critical time in my development.
This leads me to the title of this missive. I truly believe you are growing or you are dying. Time never stands still, no matter how much you would like it to. The attraction of talent, development of people, and the career paths we take are a process not a destination. Years ago, when I first became CEO of a company, a board member said that 'XYZ person' was the right CEO to start the company, but I was the right CEO for this period of that company's history. Things constantly evolve. Companies constantly evolve. People constantly evolve. They do not, however, evolve at the same pace. This is why it is so important to see the development of companies and people as a continuous process versus a destination.
If some of the five people you choose to surround yourself with wouldn't make you aware of other opportunities to better yourself because it might hurt them in the short run, then make some changes in those five people! And if you are someone who doesn't make people aware of other opportunities because it may cause you more work in the short run, please step down from any leadership positions you have at that company because you will kill it and everyone in it in the long run.
Let's revisit the stories above as explanation on why I share this.
The Corporate Controller stayed and never interviewed. However, they recognized that my company saw great promise in them and was working to create opportunities in the long run. It pushed me to grow the company to accommodate talent. It allowed the Corporate Controller to see he needed to develop people under him, so he could move up and on. It pushed everyone to move forward in a growth mode for positive reasons.
The candidate I was interviewing ultimately chose the other company. However, he always kept in touch because he was appreciative of what I shared. About ten years later, I was able to hire him because we had stayed in touch. You will run into people again. It pays to be honest, look out for what is best for all because you will ultimately see them again, or at the very least, they will spread the word (either positive or negative) out through the world.
What about Ernst & Young? I never have a bad thing to say, I've stayed in touch with many I worked with, and I always make room to talk to anyone who has worked at the Toledo office of Ernst & Young because I know the character of those that were there before and after me.


What's The Risk?
It slows the process of advancement if we wait until we reach a final destination before sending the elevator back down. There are many nice sayings about the responsibility of those who have 'made it' to the send the elevator back down to the next person. I think that sounds too selfish.
Life is a series of elevators. As long as people are sending an elevator for you, why not get off the one you are using and send it back down for someone else even if you are still using it? There will be another elevator that comes back for you. It is about a world view of abundance versus scarcity.
This ends where it started. If you're not surrounding yourself with five people who wouldn't send the elevator down until they are done with it, consider changing out some of those people.


This content was written and shared by guest blogger, Mike Cahill.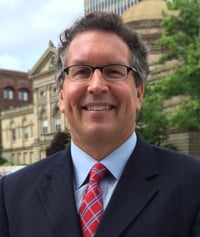 Mike is the President & CEO of Physicians Health Plan of Northern Indiana ("PHP"). He had previously been CFO at PHP from 1999 through 2003. Prior to his return to PHP, Mike was the first CEO of the AWS Foundation after serving the previous decade at Tower Bank & Trust Company (NASDAQ: TOFC ) where he served as President & CEO of this organization during his last 8 years after starting as their CFO.
He is Vice Chairman of the Board at Centier Bank, a $3.7 billion, family owned Indiana based bank headquartered in Merrillville, Indiana, as well as, Lead Director at Benchmark Human Services, the $150 million in annual revenues 'for profit' arm of the AWS Foundation that has 3,400 employees operating in 15 states, and a Director of Wayne Pipe and Supply, headquartered in Fort Wayne, Indiana.
From a community standpoint, Mike is a board member of the AWS Foundation and its NFP operating subsidiary, Anthony Wayne Rehabilitation Center. Additionally, he is Vice President of The board for Junior Achievement of Northern Indiana, as well as on the board of Community Harvest Food Bank and the Community Foundation of Greater Fort Wayne. Finally, he is the healthcare and ambassador division chair for the United Way of Allen County's 2017 Capital Campaign.
In addition to these outside activities, Mike serves on the advisory board of Young Leaders of Northeast Indiana (YLNI), the Miller School of Business, Finance Department at Ball State University, and Indiana and Purdue University Fort Wayne's (IPFW) Center of Excellence in Business Analytics.
Mike has lived in Fort Wayne since 1985 and is a graduate of the University of Notre Dame with a Bachelor's degree in accounting. Mike became a CPA while working for Ernst & Young in Toledo, Ohio after college and before coming to Fort Wayne. He has been married for 34 years to Mary, an extremely tolerant and beautiful woman and has four children - Sean (33), Kevin (30), Tara (25), and Collin (17) plus two adorable granddaughters.
Connect with Mike on LinkedIn and Twitter. Connect with PHP via their website, Facebook, and LinkedIn.