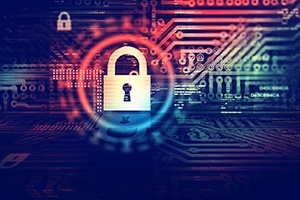 In October our attention often turns to all things spooky in preparation for Halloween. With how scary cyber risks are for businesses, it seems appropriate that this is National Cyber Security Awareness Month.
Though it is critical to address cyber risk all year long, consider taking time this autumn to review your cyber risk management strategies. Being #CyberAware, can help your organization protect what matters most.
According to the 2017 Ponemon Institute Survey, companies have a 28% chance of a breach in the next 24 months. And they aren't cheap. Data breaches cost businesses in the US an average of $225 per record. Every organization, regardless of industry and size, should have cyber security on their radar.
It's not a question of if, but when. You've likely already been compromised. Hackers often sit in a system for months before they are detected.
It's more than just external threats. Your employees may pose your biggest risk - not taking care of their passwords, clicking on things they shouldn't, and even malicious actions by disgruntled employees.
It's about more than just data. Your operations need a functioning network to be effective. Logistics, distributions, inventory management, access to important information – they all require a functioning network and without them you could lose the ability to do your job.
Hackers are sophisticated and are coming up with new ways to access your data all the time. But the use of preventative measures can help you react quickly in a breach for faster identification and containment, which can significantly reduce costs.
Have you assessed your cyber risk? What type of information do you have and what are you doing to protect it? What policies and processes can you put in place to manage cyber risk? What training and testing should you conduct? What insurance coverage should you consider?
Consider these resources to help you with your cyber risk management efforts. You can also check out the Department of Homeland Security's National Cyber Security Awareness Month website for helpful tools and materials.
Cyber risk is scary, but the more preventative measures and safeguards you put into place now, the better. Make cyber risk management a part of your ongoing risk management strategies.