Today we're sharing insight from guest blogger Brad Serf, Principal at Gibson. We hope you enjoy Brad's wisdom and perspective.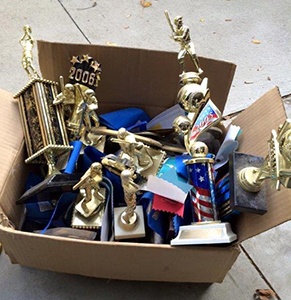 In Fall 2016 our youngest headed off to college and the nest was empty. After years of busy week nights and weekends traveling to sporting events (primarily swim meets) with the kids I decided I would try and do some much needed decluttering around the house. I came across a box of old trophies, many of which were from sports I had to really go back in time to even remember them playing. I honestly don't recall Tommy being in a bowling league but he had earned a trophy in 2003. He is 21 now and to this day I don't think I have ever seen him bowl. Little Willy had a couple of soccer trophies, a sport he struggled in. My memories of his soccer career were traveling an hour or two away on a Saturday or Sunday where he would see 2-3 minutes of playing time. Don't hear me wrong, I'm not criticizing the coach, it was travel soccer and the object was to win not create equal playing time for all.
So I took to Facebook posting a picture of the previously mentioned box of trophies and posed the question: Parents of the 'everyone gets a trophy' generation, what do you do with these when the kids are gone?
To my surprise the question generated 25 different ideas - from donating them to the local Boys & Girls Club or using them as party gifts to making a coat rack with the figurines or saving them and cherishing the memories. But there was one response that stood out, it came from a dear friend of 30+ years named Art Jacobs. He said "Put them with all your participation awards."
You see, Art and I have participated in over 100 different running, swimming, biking and even shooting competitions together. I have indeed accumulated a bushel basket full of participation awards myself. I reflected on the tone of my post and it was indeed smug at best. Yes, my kids participated in many activities that handed out participation trophies and awards, but the fact is so have I. And upon further consideration it's been good for me. Yes, even at 49 years old I still like to get a participation award every now and then. As a matter of fact, this weekend I will have an opportunity to check off a bucket list item along with another dear friend Greg Miller of Miller Insurance Group in Bremen, Indiana. After a long journey of participation and completion of long course triathlons over the last 10 years, we have both been "awarded" an opportunity to take the start of the Ironman World Championship in Kailua-Kona, Hawaii.
I love social media, but from the protection of one's computer there is an occasional tendency toward negativity. If you are going to pop off a bit online (like I did with the previously cited judgmental post), it's good to have some friends like Art who have the courage to call out hypocrisy when they see it. And I must hand it to him he got me on this one. His response made me reflect on my post.
Not only do I have a house full of participation awards, each one of those awards represents a memory and each memory has brought great joy to my life. Each of those participation awards represents a journey training and traveling with friends. They represent a race day that either exceeded or fell below expectation. They represent a desire to try and be better on the next race. My boys would say the same, that box of trophies and awards represents a lot of friends made and lessons learned. Based on their work ethic and self-awareness, I think they are going to be just fine out there in the real world and I'm willing to bet your kids will be too.
Time will tell but I am confident participation awards haven't harmed my generation or theirs. Some of the happiest people I know have closets full of participation awards. My long time Gibson colleague Sandy Wallace travels the country with her friend John competing in tractor shows. Art has his share of participation awards from years of running and triathlon events and now is collecting similar awards in skeet and sporting clays competitions. There seems to be no shortage of opportunities to compete. In August, I learned of a group of people from all over the world who visited North America for the solar eclipse, they are competing to see just how many eclipses they can see in their lifetime.
Here are a few meaningful benefits I have experienced through involvement in activities that award participation:
Stress relief – Life can be tough. Having a passion or two outside of work for the pure joy of competing has helped reduce stress in my life. Participating in triathlons has been a bit of an oasis for me. These participation awarding events continue to give me something to look forward to and be accountable to outside of my daily adult responsibilities. Too much downtime for me and I might just spend more time pontificating on social media.
Association with high energy people who are passionate about life – I am grateful for the many friendships I have developed through participation in endurance events. I have learned much from these people and just as all boats rise with a rising tide, these people have lifted me to a higher level of fitness and competitiveness.
Participation will take you to some destinations you may have never gone – Ever been to Coeur d'Alene, ID, Lake Placid, NY or Mont Tremblant, Canada? I wouldn't have either if not for pursuit of an Ironman legacy award. I would highly recommend each of these places. If you haven't been, find an event to participate in. And who knows, one of them may be in full darkness during the next eclipse.
Keeps you young in spirit – Yep, there is something youthful about getting a medal hung around your neck at 49 years old. And unless I can make the United States curling team, my Olympic career passed me by years ago.

What's The Risk?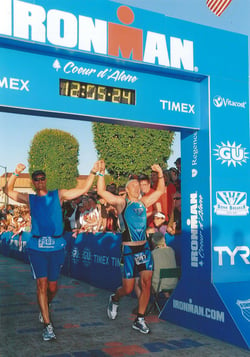 Reasonable minds can disagree on this issue, but it is my belief that if you and your kids are not getting a few participation awards every now and then you may be missing out. Get in the game, find an activity you are passionate about, and start competing. If you don't win and they hand you a medal, take it, smile, and try to progressively get better. The real world has a way of putting us in our place, I'm not a professional triathlete, far from it, but I get to race with them for a day on Saturday October 14th, 2017.
Aloha! The wheels on the plane are about to touch down in Kona. Let's see if I can earn another participation award - the best of which would be recreating this 2012 finish line picture with my friend Greg Miller.
This content was written and shared by guest blogger, Brad Serf.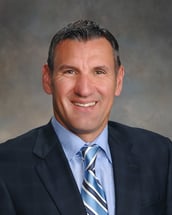 Brad is a principal at Gibson with responsibility for providing risk management and insurance services to business clients. He specializes in identifying business, strategic, and hazard risk exposures. Brad consults with clients to develop and implement strategies to effectively and efficiently grow their business.
Connect with Brad on LinkedIn and Twitter.