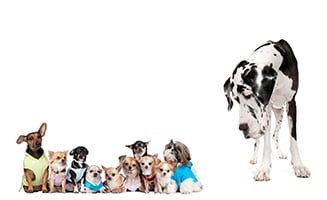 Small & Medium Enterprises (SMEs) are the "purest manifestations of business excellence" according to business guru Tom Peters. "I love SMEs. They create the jobs and are responsible for most of the innovation in our country."
It's true. Small businesses, those with less than 500 employees, account for roughly half of private-sector employment. And since the Great Recession, SMEs have accounted for 67% of the net new jobs in the US.
How do they do it? Peters is a big fan of Bo Burlingham, author of Small Giants: Companies That Chose to Be Great Instead of Big. In his research, Burlingham pointed to the following characteristics when it came to best SMEs:
They cultivated exceptionally intimate relationships with customers and suppliers based on personal contact, one-on-one interaction, and mutual commitment to delivering on promises.
Each company had an extraordinarily intimate relationship with the local city, town or county in which it did business. It went well beyond the usual concept of 'giving back.'
They had very personal and connected workplaces, too.
The leaders brought great passion to what the company did. They loved the subject matter, no matter how exciting or boring it was perceived to be.
Peters refers to these businesses as micro-niche dominators due to their focus on excellence. "And I especially love SMEs in industries others most likely would call boring!" That, of course, brings a smile to the face of this insurance agency SME leader.
It's important to remember that SMEs come in a number of shapes and sizes. While many are sole proprietorships, the remaining encompass the following:
Main Street – local businesses serving consumers and other local companies
Suppliers – key cog in the B2B world
High-growth – these are the firms punching above their weight class in job creation
"Not only does corporate America rely on small businesses to create new consumers and technologies, it often relies upon these small businesses for its supply chain. Even the biggest companies are usually counting on several different smaller businesses for important components," writes John Boitnott in Inc. Magazine.
The same holds true for innovation, as Boitnott stresses in the same article, "Many of us think of research laboratories at massive corporations as being the home of innovation, but, again, it turns out that small businesses often do it better. In fact, they produce 16 times more patents per employee than large companies."


What's The Risk?
"Little beats big," writes Peters, "Like it or not, our giant firms are rarely our best innovators. It's our SMEs – Small and Medium-Sized Enterprises – that spearhead innovation and carry the weight of sustainable economic progress."
America needs its SMEs. They are the job creators. They drive innovation. They are important suppliers and key customers. In short, they are what Peters calls the secret backbone of our economy.
Here's to you, SMEs!