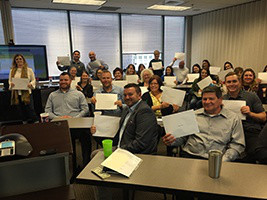 What's your favorite holiday? If you ask anyone at Gibson you likely won't hear the standard responses of Christmas, Halloween, or their birthday. Instead they'll say Statement Day.
So what is Statement Day?
As an ESOP, our employees are all owners in the organization. They all have the opportunity to earn additional funds for their retirement based on the financial performance of our company. Statement Day is the annual event where we announce the company's most recent stock valuation, and explain to employees what this means for their retirement. They receive a statement showing their new retirement account balance.
We've been grateful to see significant improvements in our stock valuation in recent years – so this makes Statement Day quite exciting! The excitement stems not just from each individual discovering the specific amount of their balance, but also from the fact that their hard work and dedication has contributed to the growth and success for the company, their coworkers, and themselves.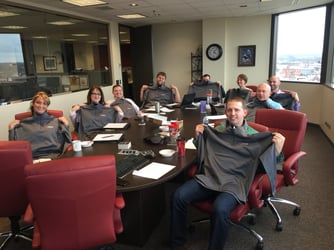 Less than 50% of all retirees have saved enough for their retirement. The ESOP provides a significant boost to retirement savings and thus allows all of our employees to build personal wealth every day.
We've also seen the tremendous impact it can have on company culture and employee engagement. Gallup reports that only 32% of American workers are engaged. With stats like that we're all looking for ways to improve the engagement of our employees. At Gibson, we've found the ESOP to be a key component of our employee engagement efforts.
When your organization is comprised of ALL employee-owners, something special happens. A distinct ownership spirit develops. This culture of ownership helps employees feel valued. It reminds them they are working together for a greater goal, something bigger than their individual jobs. It creates greater buy-in and responsibility throughout every level of the organization.
But don't just take our word for it. Ask our employee-owners. Here's what a few of them had to say:
What does ownership culture mean to you?
Everything I do matters and will have an impact on our company.
- Shannon Clifton, Client Manager | Personal Insurance, 9 years with Gibson
I believe a culture of ownership involves keeping your promises to your clients, going the extra mile even when you're tired, helping your teammate when you are busy yourself; all of which lead to better outcomes for our clients, our company, our community, and ourselves.
- Shawna Neilson, Director of Risk Management Services, 25 years with Gibson
Ownership culture fosters a true team environment. You see and feel the direct impact of your performance and that of your teammates. You feel accountable to contribute in a meaningful way every single day.
- Brandon Nettrouer, Associate Risk Advisor | Commercial Risk Management, 10 months with Gibson
Ownership culture is using every decision-making opportunity to further benefit the company and the Gibson brand. It is the transformation from "I work at Gibson" to "I am part of Gibson." This type of culture brings responsibility and a feeling of being a part of something bigger than yourself. This is a great way to connect with the company on a higher level and see the value in each decision made.
- Sam Parker, Account Manager | Commercial Risk Management, 10 months with Gibson
Ownership culture to me is holding ourselves and others accountable for our future. It's building the organization we want to be a part of.
- Jocelyn Pollard, Senior Data Analytics Consultant | Employee Benefits, 9 years with Gibson
Ownership culture means everyone having the ability to add his or her talents to build our future.
- Andrew Schroeder, Assistant Controller, 1.5 years with Gibson
Ownership to me means independence. Having some say so in your future is awesome. Even better when it is collective with all the associates you work with.
- Bob Sturtevant, Principal & Risk Advisor | Commercial Risk Management, 31 years with Gibson
We're proud of the culture our ESOP has fostered. Have you considered an ESOP for your company?