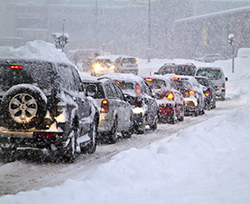 Snow, ice, hail, frigid temperatures. Winter is here. To keep you and your family safe this winter, it is important to make sure you and your car are ready for winter driving.
Preparing Your Car
Don't wait until something goes wrong. Take the time to get your vehicle ready to handle the winter weather.
Get your car serviced. Take it in for a tune-up, routine maintenance, and have it checked thoroughly.
Inspect your tires. Make sure they are inflated to the correct pressure as noted in the owner's manual.
Check your battery. It takes more battery power to start your car in the cold weather, so you want to have your battery checked.
Fill your windshield washer reservoir. It is also a good idea to keep extra on hand.
Make sure your windshield wipers and defrosters work properly. Visibility is key to safe winter driving.
Keep your gas tank close to full.
What Should You Carry In Your Car For Winter Travel?
The National Highway Traffic Safety Administration (NHTSA) suggests traveling with the following items this winter:
Snow shovel, broom, and ice scraper
Abrasive material such as sand or cat litter, in case your vehicle gets stuck in the snow
Jumper cables, flashlight, and warning devices such as flares and markers
Blankets
Cell phone with charger
Water, food, and any necessary medicine (for longer trips or when driving in lightly populated areas)
Preparing Yourself
Just as important as getting your car ready for winter driving, is taking time to ensure you are ready to handle the hazards winter travel may bring. With experience, you'll feel more comfortable with winter driving…but don't ever let yourself feel too comfortable. No matter how many times you've driven in poor conditions, you should still approach the road cautiously in the winter. You also have no control over other drivers. Your caution is not only for the ice and snow, but also to protect yourself from drivers around you.
Do not rush! Give yourself plenty of time to get to your destination. What may normally be a 20-minute drive can take significantly longer in poor conditions. You also want to have enough time to warm your car up and clear off all snow and ice before departing. When in a hurry, you may try to get away with only scraping a small area of ice – but don't take that risk. Spend the few extra minutes to properly clear your car.
Plan ahead. Check the road conditions and weather before heading out. Look for routes to avoid small side roads which may not be plowed, salted, or treated. Even if you are planning to use a GPS, familiarize yourself with the directions.
For more winter driving safety information, visit the NHTSA. They also offer an interactive program to teach winter travel tips.