Today we're sharing insight from guest blogger Steve Camilleri, Executive Director at the Center for the Homeless. We hope you enjoy Steve's wisdom and perspective.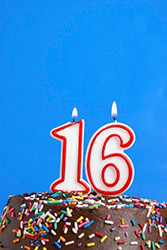 Would you be surprised to learn that a University of Scranton study found 92% of people who set resolutions don't succeed? Probably not, because you, like me, may be one of those people. As much as we hate to admit it, resolutions usually don't work. This is heartbreaking news to me. Not just because I'll continue to eat unhealthily, but because I also won't get around to saving money nor will I purge the closets like I promised myself.
For years, I've been going around wishing people a Happy New Year. And then I learned New Year's resolutions don't work out – that's nothing to be happy about! My guess is that by the time you are reading this blog you may have already abandoned your resolution. So instead, this year, I have been telling people to have a Sweet Sixteen! And the comments I've received back have been 92% positive (no university was used in the research of this data) It has a nice ring to it. Perhaps you've heard it somewhere before.
Most people associate Sweet Sixteen with one of two things.
Being sixteen was a time I'd never travel back to, what with all the acne, braces, bad hairdos, etc. However, who can forget being invited to that cute girl's Sweet Sixteen party? These parties were a rite of passage and were marked by deejays, big hair, expensive dresses, and lots of fun! Amidst the turbulent teenage years, Sweet Sixteen was stuck right in the middle of being thirteen and nineteen.
The other quintessential Sweet Sixteen comes in the middle of the March doldrums - March Madness. Halfway through the tournament is the Sweet Sixteen, especially thrilling because it signifies that your team is legit, and they made it to the point in the tourney where you could finally say they had a great season.
Sweetness in the midst of turbulence. Sweetness in the midst of madness.
And so, here we find ourselves in the year 2016, in the midst of chaos, terrorism, elections, and an unpredictable stock market.
So why would I be so quick to wish people a Sweet Sixteen? Because in the midst of all the turbulence and madness, we must stop and savor the sweetness.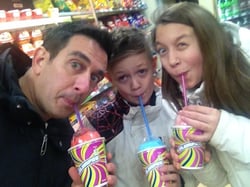 As the old adage goes, stop and smell the roses. Put aside the silly resolutions which only make us feel like failures or disappointments and savor the Slurpee with your children. Go to the gym and savor the feeling of blood coursing through your veins and endorphins making you feel like you can conquer the world. Save a little and remind yourself what you do save is more than you had before. And remember, some have substantially less.
But more importantly, adopt the Sweet Sixteen mindset where you promise to savor the sweet moments of life, big and small. Because when something is sweet, it brings joy to our hearts.
What's The Risk?
Simply stated, the risk is becoming sour in 2016. Yes, challenges lie ahead, they always do. And whether you're hoping to lose weight or run marathons, save money or spend less, volunteer more or watch less TV, we need to accept the sweet spot between us not being perfect and enjoying our pursuits.
We need to take the risk of having a Sweet Sixteen mindset this year. We grow when we take risks. If you think you can't adopt this mentality at work, then let me remind you of the great Walter Payton. For thirteen years (and only missing one game), Payton showed up at his job where he was belovedly known as 'Sweetness.'
If one of the most prolific running backs of all time could be known as Sweetness, I think it is okay for you to bring your own Sweetness in the midst of the workplace!
The author hopes that you found this blog to be short and sweet.
This content was written and shared by guest blogger, Steve Camilleri.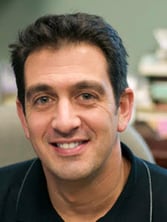 Steve Camilleri is the Executive Director of the South Bend Center for the Homeless, a position he has held since 2004.

During his time at the Center, Steve has been asked to serve on the Governor's Commission for a Drug Free Indiana, Congressman Chocola's Nonprofit Advisory Board, the Indiana Interagency Council on Homelessness, Indiana Association of Economic and Community Development, Entermission, Inc., South Bend Parks and Recreation Foundation Board, Junior League Community Advisory Board, AIDS Ministries/AIDS Assist, and AARC.

But nothing has had as great an impact on Steve's life as his family. Steve and his lovely wife Erin Kennedy Camilleri have two beautiful children, Isabelle (11) and Michael (9).
Connect with Steve on LinkedIn. Connect with the Center for the Homeless via their website, Twitter, or Facebook.