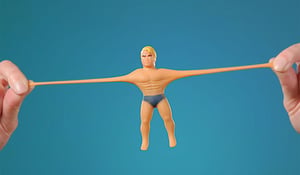 "The lesson is that resilience is about flexibility." - Aron Ralston, author of Between A Rock And A Hard Place



Beyond the normal day-to-day elasticity running a business demands, playing the infinite game requires existential flexibility. What exactly is existential flexibility?

Simon Sinek describes it as, "The capacity to initiate an extreme disruption to a business model or strategic course in order to more effectively advance a Just Cause." In other words, it's a big-time offensive maneuver and not to be confused with the defensive adjustments companies make when facing changing client needs or market conditions.

In 2003, hiking alone in Utah's Bluejohn Canyon, Aron Ralston was trapped by a falling boulder. Specifically, his right hand and wrist were stuck underneath a massive rock. You may recall his story as the basis for the 2010 movie 127 Hours.

Over the next five days, Ralston survived on minimal food and water, ultimately resorting to drinking his own urine. Depressed and hallucinating, he had a vision of his future that sprung him into action. He applied his knowledge of physics to break his arm and then amputated it with a pocket tool. He used the drinking tube from his CamelBak as a tourniquet. Finally, he rappelled 65 feet down rockface and was ultimately rescued by a passing family.

Talk about existential flexibility! Importantly, he carried out this extreme maneuver solely to advance his just cause. And not any ol' just cause, but perhaps the greatest one of all: his life. It was the only way to survive.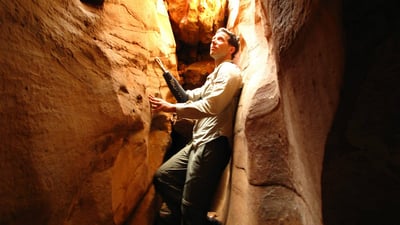 Having existential flexibility means coming to terms with the fact that the "game" will go on, with or without us. As Sinek reminds us, "If you're not willing to blow up your company, the market will do it for you." So, to be a leader with an infinite mindset, you have to open to a dramatic shift in thinking and strategy.
In times of extreme crisis, I've witnessed the opposite occur. Leaders tend to protect their current model, even if it means certain death for the organization. And Ralston could have chosen death but kept his arm. After all, who would blame someone for being unable to summon the courage to amputate their own arm? Yet a vision of his future life as a father – his just cause – carried him forward. He wasn't done living.

What's The Risk?
This has me wondering how Gibson will respond in the future when faced with an extreme crisis. Will we see it for what it is or be more concerned about protecting what we (think we) have? As a leader, would I have the courage to go forward with the business equivalent of amputating my own arm, if it was necessary for our survival?
Sinek says having an infinite mindset requires agility and a willingness to pivot. You can't make a massive shift to something new, like reworking an entire business model, if you're fully committed to keeping the status quo. Leaders and organizations must let go of long held notions and ideas that no longer serve them.
Leaders cannot overlook the importance of a crystal clear just cause. As Sinek reminds, we need our people to carry us through the short-term pain of major change. Their love, trust, and support originate from our just cause.