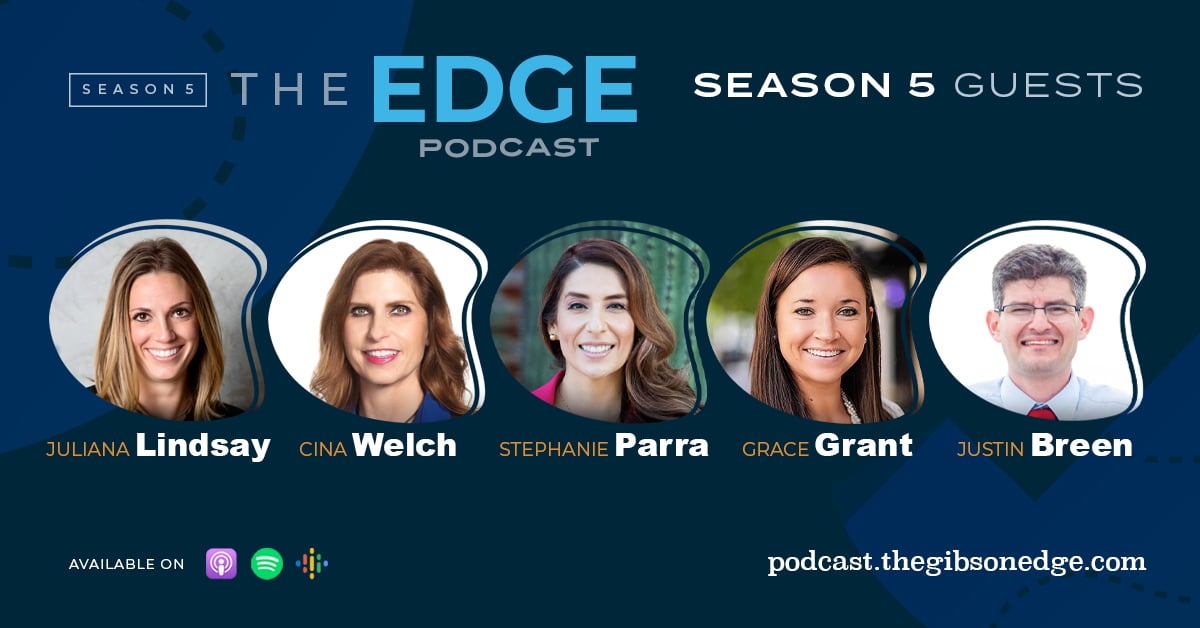 We're rounding out Season 5 of The Edge Podcast with 5 NEW episodes! Tune in to hear host Tim Leman talk with our guests about leadership, teams, and finding your edge.
Click the links in the titles below to listen to each episode.


Juliana Lindsay, a Professional EOS Implementer from Utah, joins host Tim Leman to discuss the lessons she's learned as a mom and entrepreneur. They explore the impact EOS has had on her life – personally, family, and professionally, especially the importance of letting go of the vine. Juliana & Tim also talk about the importance of peer groups, getting the right people in the right seats, casting a clear vision, and more.
Cina Welch, President & CEO of FCCI Insurance Group, joins host Tim Leman to share lessons and perspectives from her leadership journey. Together they discuss the important role mentorship plays, how work ethic has given Cina an edge, her commitment to authenticity, as well as her love of travel & adventure.
Stephanie Parra is a trailblazer in Arizona. She joins host Tim Leman on The Edge to discuss the work her organization, ALL In Education, is doing to advocate for equity, opportunity, and justice for all students. Stephanie & Tim talk about the importance of a human-centered design approach, shifting the narrative & perspective, and what makes her team unique & impactful.
Grace Grant is Executive Director of Gamma Iota Sigma, a collegiate organization for students interested in insurance & risk management. Grace joins host Tim Leman on The Edge to discuss diversity, equity, and inclusion efforts in the industry and explore what students are looking for from internships & careers, as well as what makes for transformational teams and where she has found her edge.
Justin Breen, a self-described "dad who happens to be an entrepreneur," joins host Tim Leman on The Edge Podcast. Justin is hyper-focused on connecting Visionaries – he has made it his life's work. He and Tim also discuss the importance of family and how Justin strives to "win at the right game," to always keep trying to be a better dad.