Today we're sharing insight from guest blogger Phil D'Amico, Director of Business Development and Marketing for Majority Builders. We hope you enjoy Phil's wisdom and perspective.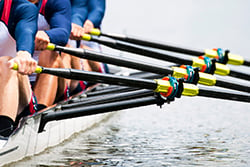 I'm sure you're aware of the quote, "It's amazing how much can be accomplished if no one cares who gets the credit." While former United States President, the great Harry S. Truman, and former Hall of Fame Basketball coach, John Wooden are credited with using this quote the most, the philosophy seems so simple for leaders of today.
Many great organizations, and the leaders who run them, have strived to create the "ultimate" team. Attaining complete selflessness or the total commitment to a team effort is often not as easy as it may sound. While it is simple for a leader to say "we need a total team effort to accomplish all we have set out to do," there can be many barriers that get in the way of achieving a greater sense of "team".
Where does this focus on team start? Who originates this team concept? Why can developing a total team be so hard to attain?
It Starts With Culture.
It starts with leadership dictating a culture of team. This culture is passed on over time. It is consistently practiced, preached, and reinforced with everyone in an organization. It has to start with a mindset that team, not any one individual alone, will accomplish great heights.
I love what Andrew Carnegie says, "Teamwork is the ability to work together toward a common vision. The ability to direct individual accomplishments toward organizational objectives. It is the fuel that allows common people to attain uncommon results."
Notice how Carnegie talks about working together for a common vision. The ability for one individual to sacrifice his or her own ambitions for the greater good of the "TEAM," develops a culture. It then sets a standard that to reach the highest success, everyone in an organization has to work together to achieve the best results. It is knowing in your mind that you alone will not accomplish what a group of talented individuals can do when they work together. That mindset has to start with the organization's culture. Are you living, breathing, and applying team to all you do?
The Key To Building A Great Team Is Trust
.
Leadership author Patrick Lencioni states, "Remember teamwork begins by building trust. And the only way to do that is to overcome our need for invulnerability."
We all need to know we can trust and have faith in the guy/gal that is next to us. Whether it is a company or a sports team, we need to know that the person we're working with has our back and we have theirs.
Theodore Roosevelt used to say, "No one cares how much you know, until they know how much you care." People in a team need to know that you are there for the benefit of seeing the team succeed, not for your own personal achievement. When you trust a person, group, or team you can work freely, uninhibited, creatively, and with passion.
We Can Accomplish More Collectively Than We Can Individually.
Michael Jordan, arguably the greatest basketball player who ever lived, once stated, "Talent wins games, but teamwork and intelligence wins championships."
We are better as a cohesive, well oiled, highly functioning team, than as an individual doing his or her own thing. I am sure if any of us had the privilege of talking with Jordan, he would assure us that while he was the main cog on those six championship teams, the Chicago Bulls wouldn't have won all those championships if it weren't for his teammates.

Understanding each other's role and how we fit into a team, organization, or project is critical for team success. Each of us has our own strengths to bring to a group, which again makes us a lot stronger as a team, than individually. As Ken Blanchard states, "NONE of us are as smart as ALL of us."
What's The Risk?
In today's society, there's an abundance of individualism. It's a concept most companies are chasing – deliver a personalized experience to stand out from the competition. But if you allow this push towards individualism to overshadow the need of a cohesive team, are you putting your culture at risk?
Total unselfish teamwork is the beauty of any organization. When one group acts in a selfless manner for the betterment of the organization, and puts the team before him/herself, you have achieved a culture that will not be broken. Once that culture is set, the team, organization, and group will be around longer than any one individual.
One of our country's greatest business leaders, Henry Ford once said, "Coming together is a beginning. Keeping together is progress. Working together is success." I am not sure I could have said it any better myself.
This content was written and shared by guest blogger, Phil D'Amico.
Phil D'Amico is currently Director of Business Development and Marketing for Majority Builders, as well as host of WNIT's Economic Outlook, a weekly talk show. Phil has over 15 years of executive leadership experience in the Michiana region while working in areas such as Economic Development, Business Development, Marketing, Legal work, and Manufacturing. Phil has earned degrees from West Virginia University, Temple University and executive management continuing education work at Northwestern University and the University of Notre Dame. Phil is also the head women's basketball coach at Niles High School in Niles, Michigan.
Connect with Phil on LinkedIn and Twitter.