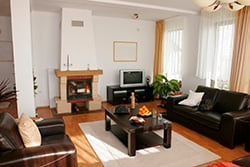 Tornados, fires, and storms happen. Burglaries happen. You take precautions to protect your home from these situations, but have you thought about what you would do if you lost your possessions?
Yes, your insurance policy is there to help cover your losses. But how do you know how much coverage you need? How will you go about replacing what you lose?
Creating a detailed inventory of your belongings is an important step in protecting your home. Don't overlook it.
Why Should I Create A Home Inventory?
It educates you on how much insurance you require to replace your possessions.
It helps provide for a better claims experience – knowing the value of your losses can help get claims settled faster.
It allows you to substantiate your losses for your income tax return.
All in all, creating a home inventory can help recover your losses more quickly and completely.
What Items Should I Be Taking Inventory Of?
To make your home inventory worthwhile, you need to be thorough. Your inventory should include any valuable items such as electronics, major appliances, furniture, jewelry, and collector's items. The Insurance Information Institute (III) offers suggestions in their Know Your Stuff® list.
Home Inventory Tips
It may seem overwhelming at first, but try approaching your home inventory one step at a time. You could decide to go room by room and tackle one room at a time. Other methods could be: category by category such as furniture, then jewelry, electronics, etc.; most expensive to least expensive items; or newest to oldest items.
Take photos! Photograph specific items, or you could even take a photo of parts of the room. Video is another option. Some people prefer to walk through their home and videotape items as they explain what they are.
Be sure to note the brand name, price you paid, date of purchase, make and model, serial number, and any other relevant data about the item.
Include your receipts and any appraisal documents if available.
Store your inventory somewhere secure. It could be a safe deposit box, digitally with a backup located outside your home, or some other safe location.
Don't forget to update your list. You will have new possessions to add and others to remove.
The more detailed you make your inventory, the easier it will be for your insurance company to determine and evaluate your loss.
Additional Resources
Creating a home inventory is not a quick project. But its benefits far outweigh the time and energy needed to complete the process. If tragedy strikes your home, you'll be thankful you took the time to document your belongings.