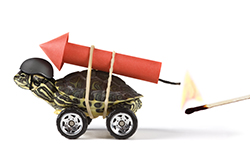 #WhatsTheRisk is my tagline for this regular executive blog. Given that I'm an insurance broker, you may think the risks I write about are "hazards" such as your building catching fire. The reality is: the biggest risks to most organizations come from strategic and business risks that involve people and your leadership. That's right. You might be the biggest liability at your company!
I've written about an assortment of risks including, but not limited to, the risk in not:
Recently I asked my friend Joe Calloway, author of Be The Best At What Matters Most and several other game-changing business books, for his perspective. Joe assists great companies to become even better by helping their leaders focus on what is truly important.
Here is what Joe had to say about the biggest risk faced by leaders:
There's risk in any decision and that includes the cliché that the riskiest thing you can do is to play it safe. If you do nothing, you risk falling behind. If you talk a big game of big changes but don't follow through, you risk demoralizing yourself and your employees.


If you truly do commit to significant changes, you almost certainly risk a degree of confusion, uncertainty, and some internal resistance.


But I believe in the idea that "If it's worth doing, it's worth doing wrong." Don't wait until the time for change is perfect. It never will be. If change is worthwhile, do it imperfectly. You'll gain information that will enable you to adjust and do it better. Imperfect progress is better than perfect stagnation.
The thing I love about Joe is he always breaks something down to its simplest form. Joe works with leaders every day. I take his perspective seriously. So when he tells me the #1 risk for leaders is waiting on flawlessness at the cost of imperfect action, I believe him.
What's The Risk?
Joe's message is loud and clear for me as a leader. As General Patton said, "A good plan violently executed now is better than a perfect plan executed next week."
I think there is an additional lesson here for those of us that work with clients and customers. If we're passionate about supporting our clients we want to see them achieve their goals and objectives. Using our expertise and carefully understanding what they want to achieve, we often develop great ideas and strategies only to see them not get implemented. Is it bothersome or do we shrug it off knowing we "at least put the idea out there"?
Given what Joe says, shouldn't we take more responsibility to help our clients with their number one risk? If leaders (our clients) struggle to implement the change, product, or service we've proposed because the idea doesn't feel "perfect" yet, shouldn't we own the process of making it more perfect for them?
Take a leadership role with those who count on your advice and counsel so they can understand the imperfect progress you can help them achieve!
To hear more of Joe's wisdom, check out his blog, as well as his guest blog post "Answer The Tough Questions" and my post about what I learned from his book: "Be The Best At What Matters Most." You can also follow Joe on Twitter and like his page on Facebook.