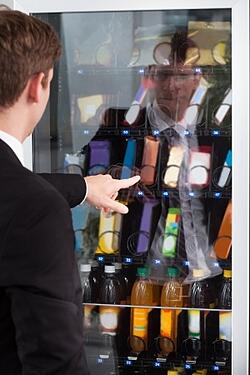 For most employees, vending machines represent eating based on necessity or impulse. Employees may turn to vending machines when they skip breakfast, miss lunch, have afternoon hunger pains or have to stay late at work – or just have a craving for something sweet. The snacks offered in vending machines are generally unhealthy, but in many situations these snacks are the only food available.
The Problem
Snacking on soft drinks, candy bars and chips several times a week can detract from an overall healthy diet and lead to weight gain. Plus, many of the typical vending machine choices offer little nutritional value or substance, and could leave the employee hungry again soon after – leading to more unhealthy eating. This can drastically affect your health care costs, as obesity is a catalyst for many other illnesses such as high blood pressure, diabetes and heart disease. Even employees who are health-conscious often forget to bring healthy snacks to work, leaving the vending machine as the only option.
Your Solution
You can help employees choose healthier snacks at work by controlling what is offered in the vending machine. Request that your vending machine company stock machines with healthier alternatives (you could also look into switching to a vendor who provides healthier options). If your vending machine will still include unhealthier snacks, help employees identify which items are good for them by marking them with colored stickers or asking the vending machine company to place them on the same shelves.
Here are some healthier alternatives to include in your vending machine:
Trans fat-free popcorn
Trans fat-free potato chips
Nuts such as almonds, pistachios, or cashews
Pumpkin and sunflower seeds
Dried fruits such as cranberries, apricots, and raisins
Fruit leathers
Low-fat crackers
Brown rice crackers
Canned fruit in natural juices
Rice cakes
Whole grain granola and fruit bars
Bottled water
Sugar-free beverages
Sugar-free cookies
Oatmeal
Be aware as you make this shift that healthier food options are often more expensive. Consider subsidizing part of this higher cost to remove any cost barrier that employees may perceive when considering the healthier snacks. In addition to the items suggested above, you may want to consider stocking your break room with healthy foods such as fresh fruit, nuts, string cheese, carrots, and celery. Though this may pose an initial expense for the company, helping employees eat healthier at work can help improve overall health, eventually reducing health care costs and increasing productivity.