Today we're sharing insight from guest blogger Mark Olson, Owner of Athletic Mentors. We hope you enjoy Mark's wisdom and perspective.
Whether we are discussing high performing 10-year old girls soccer teams, NHL Hockey teams, young startup companies, or Fortune 500 corporations, one quality all of these organizations share is the existence of an exceptional coach or team of coaches. They also have a leader at the top of the organization who fully supports and is fully engaged in the coaching process.
As a business owner of a human performance and wellbeing company, I wear many hats. Within my favorite realm as "Coach," I am responsible for player development, team building and culture building for both my clients and my staff. These coaching responsibilities can be boiled down into three primary concepts or roles - Success Architect, Accountability Boss, and Emotional Currency Regulator – all of which are essential for any high performing organization.


Success Architect
As the Success Architect, coaches use their experience, wisdom, and expertise to develop frameworks for success. Central to these frameworks is setting well defined goals. When I'm coaching an athlete, this framework takes on the vision of a high-level training plan created to pave the way to a successful season and to ensure the athlete peaks at just the right time. When I'm doing this for a staff member, I'm using the same methods but directed towards building their career within our organization.
The impact the Success Architect has on high performing organizations is both acute and chronic. With this role in place, the players are continuously driving to improve by setting realistic goals and by pursuing these goals in a very optimized manner.
Accountability Boss
Accountability, accountability, accountability. We read about this topic a lot. We make a lot of our revenue here at Athletic Mentors because of accountability. Or better put, the general lack of accountability that naturally existences in people or organizations. Really good coaches are master Accountability Bosses. The power of not letting someone down is tremendous. Even for most people who are not naturally motivated, they become motivated if they feel they are going to let someone else down. And if they know someone is watching and tracking their progress, they find self-discipline. I refer to this as "artificial self-discipline". The really rewarding thing that can happen is that this artificial discipline, when inducted by a skilled coach, can actually turn into real self-discipline over time.
You will find a form of the Accountability Boss and a culture of accountability in EVERY high-performance organization.
Emotional Currency Regulator
For me the Emotional Currency Regulator role has always been the untapped resource of long-term success for all athletes, be it in sports or business. It has become an even more critical role in the world we live in today, perhaps the most critical. I strongly believe humans only have a finite amount of emotional currency, tolerance, gas, juice, whatever term you like, per "season" to spend on optimizing performance. The really strange part about this is most of us have no idea this concept exists and even when we do, we do not believe it applies to ourselves!
I work with many ultra-distance triathletes. In this world, for numerous reasons, this concept becomes very amplified. I could write a long article on this, but I can summarize it with "no, you can't do a practice ironman race in preparation for your goal ironman race." And it's not the physical demands of this request that concerns me the most. Through years of dealing with these situations I have become very tuned into the vital importance a coach has in regulating their "athletes" spend of emotional currency.
Dealing with success and failure, instilling a holistic approach, and ensuring true life balance are vital to creating the possibility of an enduring pursuit of excellence. And at the end of the day the only way a human being can reach their true potential in life is if they are happy, healthy, and excited to continue the pursuit.
High performing organizations understand this concept and dedicate resources to it. They understand that long-term success only comes from complete wellbeing.
Now think about your own organization or team. Are all three of these roles present? Do they have adequate resources dedicated to them? Are they fully supported by leadership? Have they become part of your culture?
When these three coaching roles are thriving in your culture, it will lead to a new level of organizational wellbeing, which can pay off in unimaginable ways.
This content was written and shared by Mark Olson.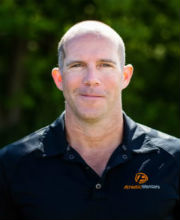 Mark Olson is one of the foremost experts in the fields of strength and conditioning, performance enhancement, and general fitness in the State of Michigan. He currently spends his time coaching athletes from numerous sports at all levels, with a focus on elite hockey players from around the country. He serves as the head strength and conditioning coach of the Kalamazoo Wings pro hockey team, acts as a strength coach consultant of a variety of programs, and trains rigorously himself.
Prior to founding Athletic Mentors, Mark served as the Head Strength and Conditioning Coach for Northern Michigan University after completing his own hockey career with NMU's National Championship Team in 1991, where he was inducted into NMU's sports hall of fame.
Following his hockey career, Mark went on to compete at very high levels in a variety of sports, including road and mountain bike racing, triathlon, XTERRA, and powerlifting. Mark holds a Master's degree in Applied Mathematics and has been an entrepreneur for numerous business ventures.
In 2003 Mark co-founded Athletic Mentors, which has become the premier strength and conditioning company in West Michigan. Athletic Mentors' primary objective is to provide a coaching environment where athletes at all levels can reach their true potential in their disciplines and in their LIVES. Mark derives enormous pleasure from producing top-performing athletes and has had the honor of helping many achieve their goals in state, national, and professional arenas. Athletes trained through Athletic Mentors programs range from youngsters to All Stars in almost every sport, plus non-athletes striving to be happy, healthy, moving, and fit human beings.
Connect with Mark via LinkedIn, the Athletic Mentors website, and the AM Wellness website.