In his book, The Power of a Positive Team, Jon Gordon addresses how teams face or react to the world around them. Circumstances and events happening around a team are not meant to define them. The team is meant to define its circumstances. The power of the team is on the inside, and when a team knows this and lives by it, it will create amazing and positive changes on the outside.
I had the opportunity to experience this for myself, and its impact has shaped who I am today.
It was the early 1980s. I was one of seven seniors on my high school basketball team. I looked the part at 6'7" but I wasn't the only one. The team had size and athleticism. Our coaches were young men only 8 to 10 years older. It was our head coach's first job straight from college. Their youth, energy, and vision would be important.
My hometown was rocked by recession, job loss, and union strife. The town had lost thousands of manufacturing jobs. There was even an EPA "superfund" site in town. Homes were being foreclosed and substance abuse was proliferating. The decline of the Rust Belt was in full swing. If you weren't going to college, you were likely going into the military or headed toward a series of bad mistakes trying to escape these circumstances.
Little did I know how fortunate I was as a teenage boy in the middle of this. A random combination of people formed a team that would teach me, even program me, to have confidence, create a vision, bring energy, always look to add & never subtract, and be connected & accountable to others.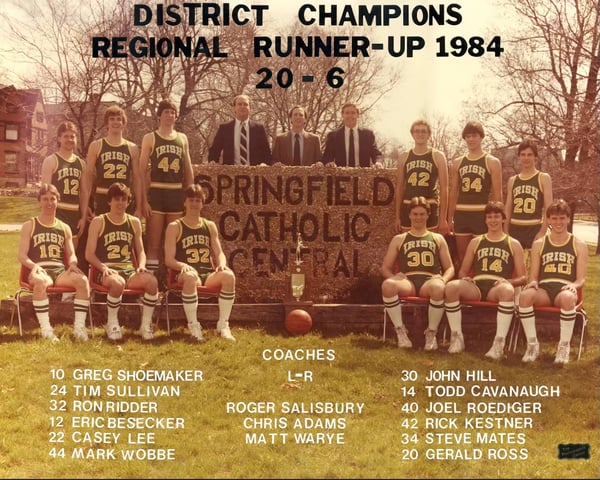 What made this team truly unique and special? In one word, trust. It was built through all the common ways one considers with athletic teams: having each other's back, putting ego aside, and being unselfish. However, and this will seem odd with today's ubiquitous technology, we watched a ton of film. If high school basketball teams filmed in this era, it was with reel-to-reel. Bulky. Clumsy. Easily damaged. Black & white. Hard to pause or rewind. Not always clear in dimly lit gyms. The VHS camcorder solved those problems and we quickly learned the lesson: the camera doesn't lie. What's this have to do with trust?
Games and practices were filmed. There was immediate feedback. There was no room for explanations or excuses…the camera doesn't lie! We were vulnerable but were given the benefit of the doubt and were allowed to explain what we were thinking or to admit we blew it. Shortcomings, individual and collective, were openly admitted and more importantly accepted. We were able to express ourselves and ask questions. We gave and received, and learning was celebrated.
We had fun, too. It was partly the result of our young coaches being more like our big brothers. They may have looked the other way from time to time, but, hey, it has been 35 years and I can neither confirm nor deny what might've been going on. The fun and the celebrating kept energy levels high. I didn't realize it at the time, but it kept us focused on what the team could achieve versus being focused on the circumstances around us. We wanted to be together, and together we were.
And, yes, there were results. We won a lot!
On the surface this special team lasted 2 years, but in many ways, it has lasted a lifetime. The finite games ended twice, with losses deep in the OHSAA tournament, moments away from advancing to the Ohio Final Four. But from an infinite game perspective, it didn't end on either of those March evenings. It's still with me today.
It's the reason I'm in insurance. Story for a different day.
It's how I met my wife. Another story for a different day.
It's an intense belief in:

"cameras" don't lie
details matter (fundamentals, doing the little things with pride & energy)
preparation matters (research/scouting, game planning, practice/rehearsing)
trusting and supporting those around you matters
What are we doing as leaders to build trust within teams? Are we building a culture of accountability? Are we giving our teams the ability to see how games are played and how to adapt? Are we building their sense of worth and instilling confidence in a non-arrogant, healthy, and balanced way? Are we showing teams how they can define themselves and not be defined by the circumstances around them?