Today we're sharing insight from guest blogger Michelle Mei, Founder of Leader Momentum. We hope you enjoy Michelle's wisdom and perspective.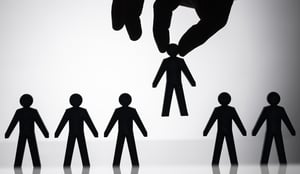 Fourteen years ago, just a few months into my first professional job as the Catering Sales Manager at Radisson Plaza Hotel & Suites, I received a call that my mom had a stroke. She almost didn't survive. My mom, a vibrant and motivated woman in her late 40's, survived the ordeal but lost most of the mobility in the right-side of her body. I was fresh out of college, ready to show my boss, the company, and the world that I was capable of anything. During the next quarterly meeting with my Sales Director, I went on and on about my lofty client prospects and sales goal. My Sales Director didn't say a word. Uh-Oh. Then, he pushed my goal list to the side of the table and said, "I need you to re-do this. I would like you to add another set of specific goals to your plan. How many times are you going to visit your mom in a week? How many times are you going to have dinner with your parents in a month?" I was speechless. I never thought a company, or a manager, would care about me as a person, or that my success in setting and meeting goals in the areas of my life that mattered the most, would matter to them too. I gave it my all for that company and because of that, I was successful at my job.
I still tell that story today, because when someone genuinely cares about you, it's memorable. And apparently, it matters a lot when attracting and attaining talent. Gallup, a company that is dedicated to studying high performing talent and culture, has predicted in 2010 the need to go beyond a person's career satisfaction and to instead focus on creating wellbeing[1]. In a comprehensive study of people in more than 150 countries, Gallup revealed five universal, interconnected elements that shape our lives:
Career Wellbeing (sometime described as Purpose Wellbeing): liking what you do each day and being motivated to achieve your goals
Social Wellbeing: having supportive relationships and love in your life
Financial Wellbeing: managing your economic life to reduce stress and increase security
Physical Wellbeing: having good health and enough energy to get things done daily
Community Wellbeing: liking where you live, feeling safe, and having pride in your community
Our current climate is changing the game in the area of Social Wellbeing, causing people across generations and industries to reprioritize their needs. The focus on Social Wellbeing has always been valuable, as like in my experience, but now, has become a necessity. If we don't adapt our culture to support this evolving need, our talent supply chain will be severely threatened. A friend asked me at the beginning of the pandemic, "How do you think the pandemic will impact the talent market? Do you think it will cause people to reconsider what is important in life and find themselves less willing to put up with poor culture?" At the time I didn't have an answer. I've seen how the economy impacts culture and leadership, often lowering a company's standards. Now that we've been dealing with the pandemic for a while, I have an answer:
Recruitment: We are quick to blame it on the pandemic-induced unemployment incentives, but there are hardworking and responsible people choosing to leave their current jobs due to poor leadership and culture. They see the lack of consideration for employee wellbeing during a difficult time. It's easy for a company to be supportive when times are easy, but it takes great leaders and a great culture to care and steward their people during the toughest times. Stewardship doesn't necessarily mean money. Often it means fostering relationships, communication, and genuine care.
Talent Supply Chain "Disruptors": Finding top talent is more difficult than ever thanks to the in-demand talent, which has grown exponentially in recent years with platform such as Upwork, where skilled professionals can easily market their skills for projects they can manage at their own time and from their own homes. Direct marketing businesses are also in the uprising, gobbling up seasoned talent who traded in their office days for the flexibility of working from home. Many have leveraged their talent and skills and created successful businesses with this approach.


What's The Risk?
What is still true, is that culture is the secret sauce in attracting and retaining top talent. A culture can no longer be one-dimensional, representing one single cause, but must be multi-faceted and agile to adapt to our changing priority and needs. I would guess that if Gallup were to select the most important question on how a culture can sustain (and even thrive) during a pandemic, it would be "Does your supervisor, or someone at work, seem to care about you as a person?" A culture with healthy relationships and genuine support is the best ingredient for our social wellbeing. Our employees, our most important asset, deserve this attention. Culture cannot be built by the HR department alone, but by each and every leader in the organization. The leader of each team is the catalyst for the health of the culture, either through direct one-on-one relationships or setting the stage for a team to cultivate healthy relationships and mutual support.
What we need to do: Create a culture that supports this type of leadership...
When promoting or hiring leaders, prioritize relationship skills and emotional intelligence. A recruitment mantra goes like this, "I can teach you what you don't know, but I cannot (or it will be hard to) teach you who you are."
Create an accountability system by first communicating the expectations. A company-wide leadership program or curriculum can help by creating a common language, and therefore setting up a cultural expectation. A friend once said, "You cannot catch people doing something wrong if you never taught them what right looks like." When an organization has disjointed understanding of leadership qualities, transformational leaders can often be misunderstood, and sometimes even punished, for taking an unconventional route that is worth taking.
Further the accountability system by inspecting and coaching. When we don't hold poor leadership accountable, it causes disharmony and a disjointed culture throughout an organization.
Celebrate leaders who have a positive influence on the culture. They are transformational leaders, who will create better, long-term results than do transactional leaders. We created this snapshot illustrating the difference between the two; it is our very first topic of discussion in our Leader Momentum Four-Week Servant Leadership program.
Leader Momentum studies the behavioral science behind the best-in-class in talent, leadership, and culture. The Leader Momentum curriculum helps organization's leadership teams master the fundamentals of being a leader. The Leader Momentum team is also a trusted development partner, focusing on bringing quality development and packaging of their client's training programs by never losing sight of the end user, removing barriers to training, and increasing efficiency and cost saving with learning technology.
This content was written and shared by Michelle Mei.
Michelle Mei is a passionate and committed leader who has dedicated her career to studying and applying a methodical approach to talent selection and development. To achieve organizational excellence, her motto is to "select hard, steward well." As the founder and president of Leader Momentum, her mission is to create scalable innovative learning solutions to teach and help leaders apply servant leadership practices to transform their organizational cultures.
Connect with Michelle via LinkedIn. Learn more about Leader Momentum on their website, LinkedIn, and Facebook.
[1] Jim Harter, Tom Rath. Wellbeing: The Five Essential Elements. New York, Simon and Schuster, 2010.