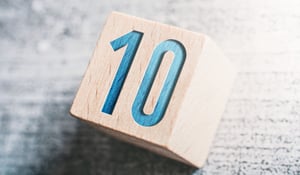 Another year of blogging is in the books!
In what has been a strange and challenging year for everyone, I hope these posts brought you some insight, nuggets of wisdom, or perhaps opportunities for reflection in 2020.
Here are the most popular leadership blogs of the year:
Click the title to read the full blog.


by Brittany Kirk, Learning & Development Specialist at Gibson
Navigating the waters of disruption presents an opportunity to grow in emotional intelligence and empathy. How can you rise to the occasion?
by Brock Squire, COO at Gibson
It is amazing how slowing down for one day accelerates success for the rest of the year.
by Kristine Hilger Carles, Executive Director of Leadership South Bend | Mishawaka
Switching from a SHOULD to a COULD mindset will help to navigate the unknown and open us to creative options.
by Nicole Fallowfield, Principal | Director of Administration at Gibson
We all have challenging times ahead of us. But I have no doubt that with some perspective, a little gratitude, and support of each other, our best and brightest days are ahead of us.
by Becky Beckman, Director of Marketing at Gibson
Rebranding is a company strategy, not just a marketing strategy.
by Brad Serf, Principal at Gibson
While individual effort remains important and will always have its place, blending individual strengths through well-constructed professional teams will prevail in a dynamic environment.
by Erin Cressy, President of Cressy Consulting
Let us emerge from this better, stronger, more thoughtful, more connected, and more ready to lead the way to a better normal.
by Tim Leman, Chairman & CEO at Gibson
Those who are truly prepared and willing will not only survive but thrive in the long game. Their readiness will breed a spirit of indomitable resilience.
by Tim Leman, Chairman & CEO at Gibson
The call for COURAGEOUS LEADERSHIP has gone out. And not that you need reminding, but there are many counting on you. How will you answer?
by Tim Leman, Chairman & CEO at Gibson
Does your organization have a Just Cause? Would your "vision statement" stand up to a Just Cause critique?
We started this Friday leadership blog series nearly 8 years ago. It wouldn't be possible without our guest bloggers - thank you! We appreciate you each taking the time to share your wisdom and perspective. I'd also like to thank our readers - we appreciate you reading and sharing these blog posts!
If you are interested in contributing to the Gibson blog, please send us an email.