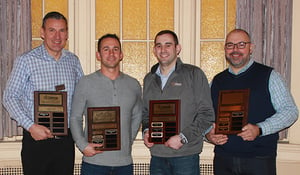 I joined Gibson in February of 2002. While I don't consider myself a historian of the firm, I have had the privilege of experiencing the growth of our company over the last 19 years. In an industry that can be prone to aggressive sales techniques and practices, I was attracted to Gibson because of the consultative and client-oriented approach to creating a great client experience.
I was very fortunate to have been mentored by some of the best risk management and insurance brokers in our business. Collectively they helped me become more curious and ask better questions of clients and prospects. The answers to the questions helped me to engage the right partners within Gibson to make the client experience better.
I was flattered when a couple years in my sales manager called me in to his office and encouraged me to begin operating on my own; I felt ready. While I had some success on my own, I had just as many years where I did not meet expectations. Confidence can be a fragile thing in professional services, and I must admit I was up and down a bit in the early years.
In 2007, Tim Leman was named Chief Growth Officer. Tim had a vision of promoting growth by enhancing the client experience, through a framework of strategically built teams focused on industry segments and a common goal.
His vision was initially met with some resistance. Teams of professionals require a heavier investment. For example, it is costly to send 2-4 professionals out on a prospect visit. In addition, there was no shortage of individual drive and ego in our industry. While those attributes can be beneficial, they often don't produce optimal results. Tim understood that our business is dynamic and committing to teams of professionals would increase our probability of success by creating better results for our clients.
With over 10 years now to reflect on our dynamic and inclusive team selling culture, I could not have imagined the multitude of benefits this approach has produced for our clients and our employee owners. Let's cover the top 3:
Creates a better experience for our clients
Increases accountability and inspires teammates to be their best
Makes the work environment more fun

CreatES A Better Experience For Our Clients
Teams dedicated to a cause and functionally aligned have proven to produce better outcomes for our clients. When the client sees we are fully invested in them it sends a clear message and builds loyalty. Our client needs are complex and demand our best effort, talent, and resources. Teams allow us to expand knowledge and expertise so that our clients can capture the value.

Increases Accountability And Inspires Teammates To Be Their Best
I don't know about you, but I tend to give myself a pass on things I know I should or should not do (i.e. I eat too much ice cream). When it comes to teaming, I feel a strong sense of accountability to my teammates. It inspires me to work harder and smarter, and that is a powerful mindset. I don't want to let a teammate down and I get a lot of energy out of helping others succeed. Better organizational learning (both internally and externally) and knowledge transfer is optimized in a team environment.

MAKES THE WORK ENVIRONMENT MORE FUN
It is amazing what happens when you no longer have to be the smartest person in the room and you no longer worry about trying to handle everything on your own. The client is better cared for and the personal stress level decreases dramatically when you know who to get involved and aren't afraid to ask. The team environment has built trust and confidence internally. We know the job will get done and done right when we engage the right teammate. Teaming fosters collaboration and creativity. People thrive when working together it is a great engine for organizational learning. By making your work environment a fun place, you will automatically spur productivity and a positive attitude to work.

What's The Risk?
Many industries, especially professional services, remain dominated by a selling culture that rewards individual performance and outcomes. While individual effort remains important and will always have its place, blending individual strengths through well-constructed professional teams will prevail in a dynamic environment. Teams inspire better performance; they provide an environment to shrink the learning curve for new employees while keeping the seasoned staff young! And here is the best part? I bet your organization can do it too.