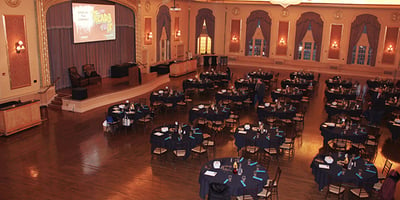 Earlier this month I attended my first Gibson State Of The Company (SOTC) meeting. All 140 Gibson employees gathered in South Bend for the day to reflect on the past 12 months and ignite our energy for the year ahead.
I set modest goals for my first SOTC. I didn't want to trip when walking on and off the stage and wanted to limit my creative pronunciations of names when announcing work anniversaries. I even got some laughs during my presentation – I think the laughs were of the "at me", not "with me", variety!
In all seriousness, I found this day to be incredibly valuable. Being relatively new to Gibson, the opportunity to meet fellow employees and put names with faces was a big part of the day for me. The energy and pride everyone had about Gibson, their clients, colleagues, and community was very evident and exciting to see. There was no doubt leaving the meeting that the Gibson culture is strong.

So, What Exactly Is A State Of The Company?
Many of you reading this may already have a SOTC-like meeting. If you don't currently have one, the "State Of The Company" refers to the company's leadership updating the entire organization on your recent progress. The agenda is simple: where you've been, where you are now, and where you're going. The goal of the meeting is also simple: celebrate recent success and provide clarity on the opportunities we have ahead of us.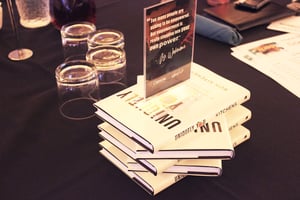 Gibson has used this idea for years, holding annual company meetings and sharing regular email updates, but it became much more formalized as we adopted EOS, the Entrepreneurial Operating System. A key aspect of EOS is sharing the vision of the company with all employees and sharing it often – that is what our goal is with the State Of The Company. Though "State Of The Company" comes from EOS, it can be applied in any organization. I'm sure many of you are doing something like this already.
We kick off the year with an all company, in person, State Of The Company meeting. As much as we'd love to get everyone together for an update quarterly, that isn't feasible. So, each quarter we send out a video update – our State Of The Company update – to all employees. It doesn't have to be fancy. For us, it is usually our CEO recording a quick Zoom meeting from his desk, then sending it out to the company.
As leaders, what are you doing to communicate your vision and goals with employees throughout the year? How often do you get the entire company together? What are some ways you could improve on these meetings and messages?
For all company meetings in particular, here are some ideas to consider:
Mind the details. The little things can make a big difference. Especially for companies with multiple locations, make sure everyone is wearing a name tag. Let's be honest, not everyone looks like their bio photo, so name tags are crucial. And even though some may complain, consider assigned seating; it will help ensure your employees are interacting and getting to know each other beyond their day-to-day teams.
Recognize your employees. I had the honor of kicking off the anniversary recognition and awards section of the day. While anniversaries are always fun to celebrate, the ability to recognize employees for demonstrating our core values was a true highlight. While there could be only one winner for each of our core value awards, the number of nominations was staggering. It was a great testament to the respect and admiration people have for one another at Gibson.
Get offsite. You may not be able to fit everyone at your office and meeting in a different place will help provide the group with a different environment and perspective. Gibson has tried to mix is up with a different venue each year.
Have some fun. This will look different for every company. It could be interactive activities or icebreakers, music during breaks, a trivia game about your employees, or a contest with giveaways. There are going to have to be some PowerPoints, but you also need to keep the group engaged all day. Try to add a few elements to bring in a little more fun!
Bring in outside perspective. It would be easy to fill the entire agenda with your own topics but consider bringing in a guest or two to share a different perspective with your team. Last year we had a client testimonial as well as a fireside chat with Gibson's former Chairman & CEO Greg Downes. This year we asked two of our Board of Advisors to join us – an inspirational talk from Ron Kitchens and a great Q&A with Tiffany Sauder.
Evolve the meeting. As your company evolves, so will your State Of The Company meeting. Be open to making changes each year to better accommodate your people and your vision.
What's The Risk?
Planning an all company meeting isn't easy. Depending on the size and location of your company, it can require a good deal of time, energy, and money. But without this opportunity to bring your people together, you risk not having your vision and goals understood and shared by all.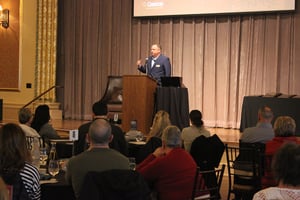 You also don't want to overlook updating your employees throughout the year. The annual meeting is extremely valuable but finding ways to keep your employees in the loop, such as quarterly video updates, is crucial to helping everyone stay on the same page.
A day without spreadsheets, conference calls, and to-do lists is good for the company spirit. Especially, when you take that day and spend time together to celebrate each other, share some laughs, and gear up for future success! It is amazing how slowing down for one day accelerates success for the rest of the year.
P.S. One last thought…the laughs will quickly subside if you go over your allotted time and take away from happy hour.