Today we're sharing insight from guest blogger Ron Kitchens, Chief Executive Officer at Southwest Michigan First. We hope you enjoy Ron's wisdom and perspective.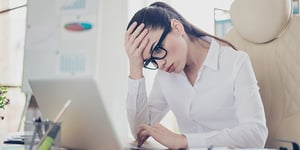 Leaders push boundaries. They're the first to try out big ideas. But doing what has never been done is not without risks. All leaders will eventually experience obstacles and setbacks—it comes with the territory. One of the things that separate great leaders from the rest is their ability to adapt and navigate adversities.
Here are a few tips you can use the next time you're down:

Take Emotion Out Of The Equation
Leaders cannot let one obstacle hold them back. Keep in mind that the Wright brothers didn't take flight with their first design. Twelve publishers rejected J.K. Rowling's original Harry Potter pitch. And Walt Disney was once fired from a newspaper job because his editor said he had no imagination.
Like the Wright Brothers, not all of our designs are going to make it off the ground. And like J.K. Rowling experienced, critics are everywhere. It's tough to do, but to be successful, leaders have to ignore the voice in the back of their heads telling them to quit and remain focused on their mission.

What Doesn't Kill You Makes You Stronger
When athletes train, they spend every day pushing themselves past their limits. A common technique for building strength is called "training to failure" and involves repeating the same lift until your muscles give out entirely. The idea is that in order to improve, you have to know where your limits are so you can push past them. Over the last few years, exercise scientists have confirmed that lifting until failure is an excellent way to build muscle. I would argue that just like with athletes, leaders with the right mindset turn pain into strength and build their determination and grit. This gives them the power and know-how to push their boundaries.

Play The Long Game
Remember: Setbacks are not the end of the world! A single project, event, or conversation—whether positive or negative—will not define your overall success. And one setback doesn't mean you or your team will fail.
Take another look at the situation. Try to step out of the moment and look at things from an objective point of view. The long road of your career has had its twists and turns already, and you're sure to experience more until you get where you want to go. Leaders are built over time. Bumps in the road are normal, and sometimes even necessary for your development. Remind yourself that any embarrassment you're feeling today will be gone by next week. And if you have the right perspective, the lessons you learn could save you in the future.

What's The Risk?
There are going to be setbacks; it is part of being a leader. But the risk is in letting the fear of those obstacles hold you back from trying again.
"The greatest accomplishment is not in never falling, but in rising again after you fall." — Vince Lombardi
Always Forward.
— Ron
This content was written and shared by guest blogger, Ron Kitchens.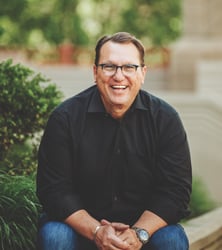 Ron's focus is to lift up leaders by accelerating their impact, influence and well-being in career, family and community. He is the senior partner and chief executive officer of Southwest Michigan First, an economic consulting firm, which has grown compounded revenue at 20% annually during his 14 years as chief executive officer.
In addition, Ron leads Consultant Connect and is the publisher of 269 MAGAZINE™, a board member of Impact Athletic, the past chair of the Kalamazoo Institute of Arts and a Trustee of Western Michigan University.

Ron is the founder of the leadership conference Catalyst University and the co-founder of NEXT, an invitation-only leadership symposium for global economic development leaders. He previously served on the staff of U.S Senator John Danforth, and he was an elected Alderman at age 21.

Ron is author/co-author of three books, including the bestseller Community Capitalism and speaks globally on leadership, creating thriving, engaged, multi-generational teams and entrepreneurial cultures, and his new book Uniquely You was released in 2019. He blogs and podcasts at ronkitchens.com and can be found on Twitter @ronkitchens.