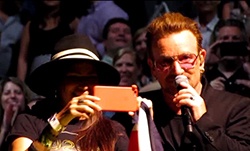 This summer I was able to see U2 perform live at the United Center in Chicago. At first I was a little disappointed to know that the iNNOCENCE + eXPERIENCE tour would be indoors since I was really in the mood for an outdoor summer stadium show.
U2 holds the record for the highest grossing tour of all time at over $736 million for their 360˚ Tour. You just can't produce the same type of revenue in smaller venues. So why wouldn't an aging rock band with that type of revenue generation ability stick to their familiar script?
Because that's just not the U2 way.
I've always enjoyed their music. 1987's The Joshua Tree was one of the first CDs I ever purchased and is still one of my favorite albums of all time. Although the Chicago show was the third time I've seen them play live, I freely admit that I'm not at the "super fan" level. So I consulted one of my Gibson colleagues, Margaret Hartsough, who most certainly is. There are even rumors of U2 frontman Bono having a restraining order on her, but that's never been proven.
"This album and tour have been all about making connections – connections to their youth, their families, fans, and even non-fans via the free album download that everyone mysteriously found in their iTunes account last year," said Margaret. "Ultimately the connections are about staying relevant."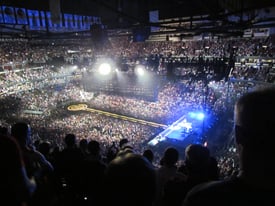 As we waited for U2 to kick off the show, I was struck by how simple the stage looked. Ahh… I thought to myself they are going to mail it in. It looked kind of like a capital "I" with a bigger end being the main stage and a smaller end being a second stage. There were some yellow markings along the sides like the painted lines on a highway. There was also a massive black mesh structure hanging from the ceiling over the long walkway connecting the two stages. I assumed it was holding the speakers and other equipment.
It turns out that this mesh "cage" would be one of the coolest video boards I've ever seen. They showed videos from their past with Bono walking the streets of his old neighborhood in Belfast. This was anything but a "mailed in" show.
Margaret agreed, "Given how heavily invested the show is in technology, I can only imagine the work and planning that went into creating both the technology as well as the artistic imagery and ways of using it. Many partnerships with innovative tech companies had to work well in order to bring the creative vision for this show into reality."
"Every complex piece of technology has to come together and work right every time, on time, and it does," she said. "Of course, the songs, not the visual spectacle, are the essential elements of any concert. But, the magic of the massive interactive screen brings a higher poetic order to each song making this tour my favorite of all."
Margaret is in a unique position to make this assessment. Over the years she's been to 20 of their shows. And she doesn't just go to one show for every tour. Rather she will typically attend the same show in the same city multiple times. This year in Chicago was no different.
"I saw the first two shows from the floor near the stage," Margaret added. "Looking up into the screen, I could see Bono strolling through the cage-like center between the two massive LED screens that span the length of the arena, but I could only see his feet, behind the rows of individual LED lights. I asked a friend next to me, why are they hiding in there? There's no point to it. It wasn't until the third show, seen from farther back in the seats, that it all made sense. From a distance, the crowd was being treated to a complex melding of live performance and animated technology that I doubt they had ever seen before at a concert."
For decades, hard-core fans of rock bands have traded bootleg audio tapes of concerts. Then came online file downloads, then YouTube, and now live streaming of the concert as it happens. Instead of fighting technology and their fans, U2 has embraced it through an arrangement with Meerkat to live stream part of the concert every night.
I was fascinated when Bono pulled a fan from the audience, handed her an iPhone, and instructed her to film the band as they played the next two songs. And I'm pretty sure it wasn't random. U2 knows who their fans are, when they're attending, and where they are sitting. Talk about knowing and engaging with your customers!
"I love how they invited the world to stream the concert live each night and tweet their thoughts," said Margaret. "Then they appear on the giant LED screen. It's another connection to the fans that was not previously possible, even as recently as the last tour. As Bono stated in one of the shows, this was all about breaking down any last walls that exist between the band and their fans."
What's The Risk?
U2 knows the risk in resting on its laurels. As Margaret said, this is about remaining relevant: to their fans (old and new), in the music industry, and to their vision of impacting society. In spite of status quo being the easiest path (and in the short run, most rewarding financially), the band chooses innovation.
How do they do it? Margaret spelled it out:
They're heavily invested in technology;
They're creative and unafraid to try new things;
They use artistic imagery so they're visually appealing to their "customers";
They don't go it alone, but rather recognize the value in partnerships;
They've turned something complex behind the scenes into a consistent and rewarding experience for every fan;
They know who their customers are and how to engage with them;
And they haven't forgotten who and what they are... No matter how good the laser light show is, if you're a band, you still have to get up there and play some great music.
What about your organization? Are you just collecting checks or are you thinking about how you remain relevant to your fans? Are you sticking with the status quo or are you choosing to innovate? Your clients won't wait around forever. With or without you, they will carry on. (Sorry I couldn't resist).