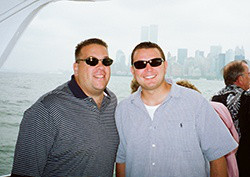 Back in September 2001, my wife and I spent a weekend in New York City with our native New Yorker friends Jim and Noelle. Jim is from Long Island and Noelle from Queens. They took us to some of the major NYC landmarks including Central Park, the Statue of Liberty, and a harbor boat ride. It was a foggy day on September 8th, but we were still able to take in the New York City skyline from the harbor, including the twin towers of the World Trade Center.
On Sunday the 9th my Indianapolis Colts destroyed Jimmy's New York Jets at Giants Stadium. Jim had warned me not wear my Colts gear to the game. I ignored his counsel. It wasn't until after the big Colts win that I understood why he had given such sage advice. The sarcastic pre-game jabs of, "Hey buddy! Nice shirt!" had become expletive-laden taunts.
On Monday we left New York City. I flew on to Nashville for a company meeting and arrived home in Phoenix later that evening. It was a fun weekend with great friends.
You know what happened next. The following morning, Tuesday, September 11th, a terrorist attack would level those twin towers, and along with other coordinated attacks, thrust our country and the world into crisis.
Nearly 3,000 people died that day. Of those that perished, 415 were firefighters and law enforcement personnel. It was, and still is, the worst terrorist attack in history. As a forty-something Gen Xer, it is arguably the defining moment of my generation.
As America rebounded from the destruction and loss of life, a greater sense of pride, unity, and patriotism rippled across the country. Those brave firefighters and police officers who lost their lives while helping others weren't just New York's finest. They were America's finest. In almost every Walmart or CVS, you could find FDNY hats for sale. Churches were fuller. At stadiums across the country you would likely find a giant flag presentation. And in addition to a proud rendition of our national anthem, you might even get a performance of God Bless America. We were one.
How do things look now?
There is very little of the old unity left. Civility seems non-existent. Many of our leaders and potential leaders don't leave us feeling very proud. Police officers in many cities have gone from being revered to the symbol of a broken system. And we don't know whether to respect an athlete exercising his right to protest by sitting during the national anthem or shake our heads at his misguided angst.
Often times, a great crisis can bring a new level of focus and clarity. The trigger itself can be a rallying cry to unite around a common objective. More attention is paid to shared values than our unique differences. It's an environment where trust and collaboration can win out over suspicion of motives.
And yet, it can all change in a hurry. If clarity is only the result of a highly emotional response to crisis, it won't last. And while crisis can be a great spark, the unity and focus must be purposely kept alive.
My experiences in life and business have taught me that achieving lasting unity comes when these five things are included in your approach:
Stay resilient in the face of crisis, no matter how tough things get.
Consider your reaction, being self-aware and introspective.
Be willing to adapt to the changing circumstances and shifting tides.
Take an inclusive approach, as you will need the support of others.
Bring great clarity by over-communicating a compelling vision of the future.

What's The Risk?
A crisis can come in different shapes and sizes, often in ways and at times we least expect. When the next catastrophe strikes, will you achieve a lasting unity of purpose and people or just a temporary truce? The answer, or rather the risk, lies in your approach.
Whether you're a citizen, partner, employee, or family member, more can be accomplished when we pursue a shared vision than going it alone as individuals. United we stand, divided we fall.