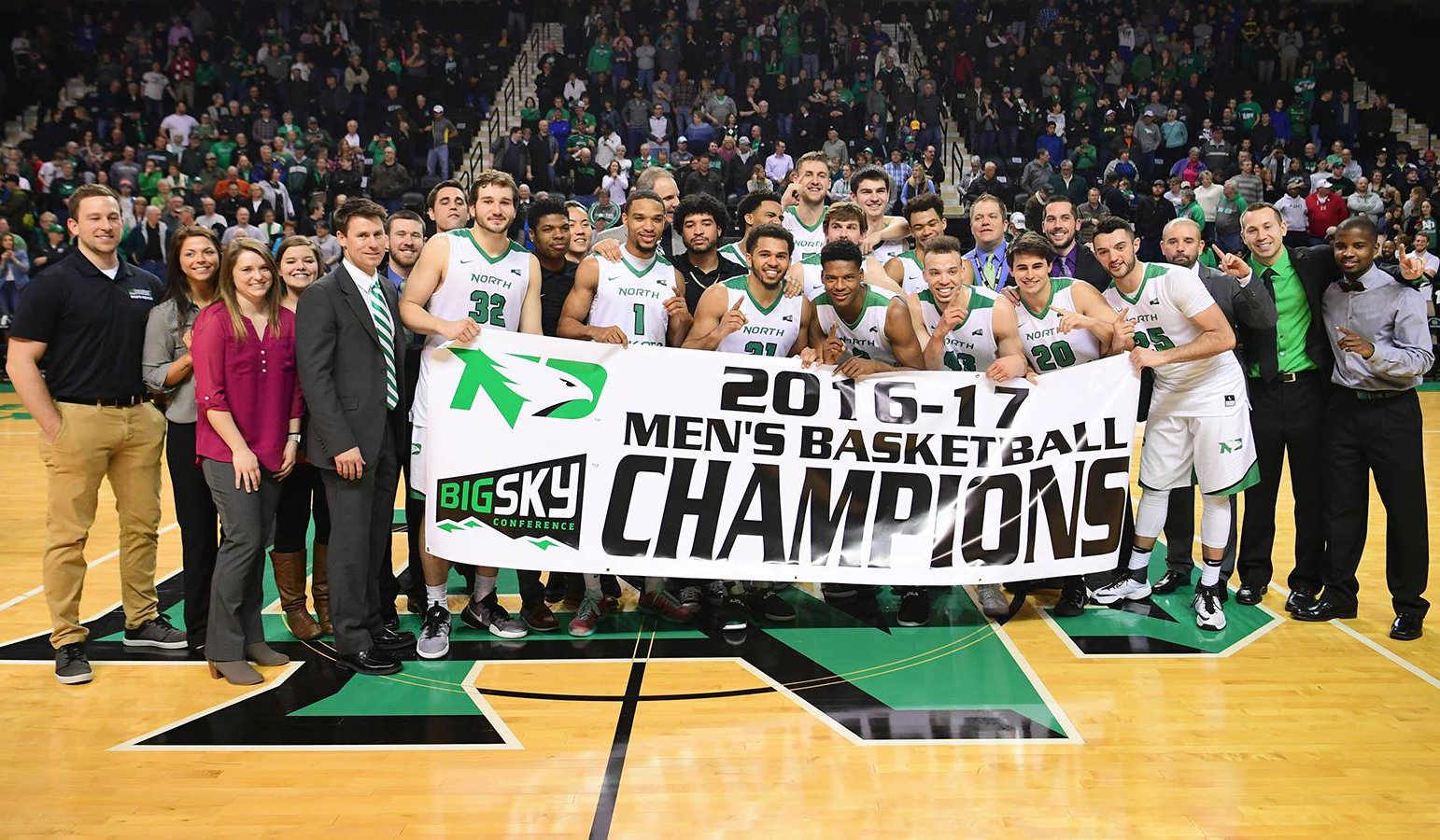 We're Going Dancing. Those are the three words every NCAA Division I basketball player and coach dreams of yelling.
Why is it everyone's dream?
Only sixty-eight of the 358 NCAA D1 teams punch their ticket to The Big Dance (NCAA Tournament) each year
Only 19% of men and women college basketball student-athletes will make it to The Big Dance each year
Only ~1.5% of all high school boys' and girls' basketball student-athletes make it to the NCAA DI level each year
Only ~0.2% of all high school boys' and girls' basketball student athletes will ever experience The Big Dance as a player
The numbers are not in your favor, which is why shouting the words "We're Going Dancing" is a dream!
In 2017, our men's basketball team at The University of North Dakota accomplished that dream for the first time in school history and I had the opportunity to shout those three special words!
Here are a few themes from that special season which we held tightly to, and I believe any team can learn from – sports, business, or otherwise.


Resolute Belief In The Mission
No different than any of our readers, our team faced adversity along the journey. But what made this team special? Their belief in our mission - the NCAA Tournament. In the book Extreme Ownership, Jocko Willink and Leif Babin write that for any team or organization to win and achieve big results there must be a resolute belief in the mission. It is critical for team members to operate with the understanding that you are part of something greater than yourself and your own personal interests.


Better Together
Although the leaders of our companies and organizations do an outstanding job at mapping our future through strategic planning sessions and by setting company goals, the reality is that the future is unknown. Does anyone remember March 2020?
One thing we used to tell our players is that we cannot guarantee we will have success with this strategic plan, but we can guarantee we will not have success if we do not do it together, as a unit. We have to all row in the same direction, and that is what our North Dakota team did during the historical 2016-2017 season.


We Rise By Lifting Others
We all have teammates (in life and business), but how often are you encouraging one another? One of my colleagues would always say to "pump up someone's tires so much they look like a funny car driving around." This was his way of reminding us to build each other up. In Leil Lowndes book How to Talk to Anyone, he introduces the idea of "swiveling the spotlight" when speaking with someone. This means asking teammates about themselves, their life & their interests - you will be amazed at how you can turn a relationship into a bond and trust can be developed.
When an organization develops trust – truly investing and believing in one another without knowing the outcome - amongst one another, that's when production can skyrocket. Stephen Covey shares, in his book Crucial Conversations, what I consider to be a competitive advantage for a company: that you can measure the health of relationships, teams, and organizations by measuring the lag time between when problems are identified and when they are resolved. So, when crucial conversations need to occur, they are productive because they are coming from a place of trust.


Be A Fountain, Not A Drain
Where your mind goes, your energy flows. We all have the ability to choose our response to the events that happen in life in order to have a better outcome. Tim Kite calls this formula, E+R=O. Some events we can plan and prepare for, while others we cannot. How we respond will dictate the outcome of the situation. If you want to have a great outcome, have a great response. If you are wondering why the outcome was poor, your response to the event was poor. We'd always encourage our players to be an energy giver, not a taker.


WE
Me
We challenged all members of our organization to have a Team 1st mentality, to place the WE above the me in our daily decision making. We understood that the greatest threats to our success were not the external, but the internal. We knew complacency, distraction, and jealousy would be the things that would limit our ability to reach our potential. This is no different when collaborating with colleagues, friends, or family members. When personal agendas become more important than the team and the overarching mission's success, performance suffers and failure ensues. When the seas are rocky within the team, are you committed to the WE or the me?


March Madness Is Here!
As Selection Sunday approaches and the field of sixty-eight are announced, people all over the country are going to become invested in The Big Dance. It is an exciting tournament to watch, but I promise you it is even better to be in. Our 2016-2017 University of North Dakota men's basketball team was fully invested in one another to accomplish the mission, The Big Dance.
My question to you is: what are you invested in? Is it receiving your best? Are you building trust amongst your teammates? Are you choosing to produce positive or negative energy to the events in your life? Are you committed sacrificing the me for the we?
If you want to go fast, go alone. If you want to go far, go together. Get in the game. Invest in one another. Do it as a team and I promise you will not have to wait until March to wear your dancing shoes, you can wear them year-round.
#BetterTogether