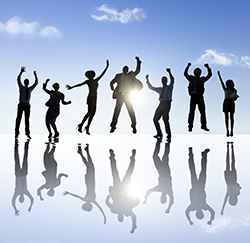 Every year we set aside a day to spend time with all our employee-owners talking about our GESOP, our company, how we're doing, and to have some fun. It's always a good day. But last week's meeting was exceptional. It was extraordinary because of our stock valuation results, our recent Best Places To Work award, and best of all – continued camaraderie with all the people who make Gibson great, our employee-owners.
To start the day, Rhett Fisher, CFO of Ancon Construction, spoke to us about their ESOP plan and how special it's been for their company. Rhett, like me, is deep into ESOP details. His passion for Ancon, their ESOP, and employees was obvious. It was great for our employee-owners to hear – straight from a fellow ESOP company.
Our meetings have dedicated time for results, with details of how our company is performing. Transparency has always been an integral focus. We also discussed the significant changes we're making on the IT front and how they will help us have a competitive advantage.
The importance of culture was highlighted – which is important for all companies and especially for an ESOP. WE are the company, and WE create the culture. We're fortunate to have a great culture at Gibson. Are we perfect? Heck no. But we're good, and we're working hard to get better every day.
Then we got into the cool stuff. We shared the results of our most recent stock valuation. Amazingly, the stock value increased by double digits – again. We revisited the items that drive our stock price, and that we have the ability to influence our results, unlike our investments in the 401k space where we as investors have no control. It's always a good reminder that the decisions we make every day can help or hurt revenues and profits, and together we can continue to build on our current success and become even better.
And how about Best Places To Work? We were recently named to the 2015 Best Places To Work in Indiana list! We took time to look at the results of the employee survey which led to that honor. This tells you a lot about our culture at Gibson – we were named to the list for the 3rd year in a row – yet we talked about how to improve.
We wrapped up the day by handing out our annual agency awards: the Agency Value, Client Advocate, and our Living Well Award. Three special awards for three deserving people. Congratulations Chris, Melinda, and Michelle, respectively.
Our day culminated in a celebration of our GESOP and our Best Places To Work award. Great to celebrate with our teammates over good fortunes.
Gibson is indeed a special place. Our GESOP is special. Our firm is full of exceptional professionals – all of them owners.
I am a firm believer that our GESOP has been an integral part of our success and our culture. An ESOP is THAT powerful. Have you considered an ESOP for your company?