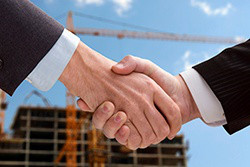 Unless I'm talking to a contractor, people often give me a blank stare when I say I lead our surety bond practice. "Surety, what the heck is that?"
Given this apparent lack of knowledge of what I do on a day-to-day basis, I submit a Surety 101 to educate the masses!
Those who are not contractors often hear the term "bond" and immediately think of either an investment vehicle (i.e., stocks and bonds) or think bail bond. The "stocks and bonds" are not associated with surety whatsoever. However, a bail bond is actually a form of surety bond...but not one that Gibson deals in.
A surety bond is a guarantee that is a risk transfer tool. It is an agreement between three parties – the surety, who guarantees to the obligee (i.e., the project owner), that the principal (a business owner/contractor) will perform its obligation.
From the perspective of the obligee, or project owner, the bond provides insurance that a project will be completed. But it is not insurance, in the traditional sense of the term.
For the principal (the contractor), the bond doesn't operate like insurance at all. Actual insurance operates on the law of large numbers. An insurance company evaluates a risk, decides whether to provide coverage for someone, prices the risk, and then collects premium from a multitude of companies. The insurer expects losses to occur, but they bet the premium collected, and the investment earnings on those premiums, will be sufficient to cover their overhead, pay any losses, and leave a nice profit left over.
Surety, on the other hand, is much more like banking. A surety underwriter expects no losses, just like a bank extending credit – if they believe a company is likely to have a loss, they won't do business with them.
If there is a loss, a surety has an agreement with the principal that the principal, and likely the owners as well, must reimburse the surety for any loss incurred by the surety. An insurance company does not seek reimbursement for a loss. Rather, it will perhaps raise a company's rates or non-renew a company who has a loss. Think about a car accident you cause – your insurance carrier, after your deductible, will pay for the damages, but the insurer does not seek reimbursement from you. A surety will pay for a loss, but the principal (contractor) must repay the surety for anything the surety pays out.
Understanding Surety Credit
Surety credit is based on experience and financial strength. We often look at it as the 3 C's of Surety Underwriting:
Capital - What do the financials of a company look like? This refers to the company's financial condition. The company's financial statements show where a company has been and where it stands today. Focus is given to the ability to handle current financial obligations, how much debt exists vs. how much equity the company has, and the profitability of the company.
Capacity - Can the company actually perform the work they secure? Capacity focuses on non-financial information, such as project history, the experience of key employees, the equipment and labor resources of a company, and contingency plans.
Character - Can the owners and management be trusted? Although this might be the most difficult of the C's, it arguably may be the most important. This revolves around a company's reputation and their relationships with others. Does the company, their management, and ownership do what they say they are going to do? Establishing a strong relationship and trust factor with the surety company allows for stretching of a program and ease of the day to day needs.
Having a knowledgeable surety agent is critical in obtaining adequate surety credit. Your surety agent must understand you. This means not only understanding the work you perform, but also understanding your financial statements and even the owners' personal financial situations. It is role we take seriously, as evidenced by having a surety bond department, while many insurance agencies do not have dedicated expertise.
We wear many hats – administrator, in doing the day to day issuance of bonds; CPA, in evaluating financial statements and projections; risk manager, understanding contract language and risk associated with a particular job; and even psychologist, often managing ownership group personalities, matching surety underwriters with owners, and navigating needs vs. wants. We enjoy finding the right program for our clients, and sometimes that is easier to do than others. Let's just say there is never a dull moment!
Looking for additional information? Check out the surety section of our website for more information on our team, what we do, and a Surety 101!