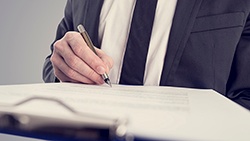 In the construction industry, it seems you are either asking someone to sign a contract or being asked to sign a contract daily. With so many contracts, and the complexity involved, it can often be difficult to accurately assess your risk exposures. Yet oversights and mistakes in this process can be extremely costly.
Among other things, these contracts commonly outline insurance requirements, and they further necessitate that these requirements must be evidenced by a certificate of insurance. When this contractual obligation is not met, it exposes the parties to the risk of breach of contract as well as uninsured liabilities – both of which can have undesired financial consequences. Seeking perspective on what damage such contract oversights can bring? Take a look at these scenarios from our blog on contract reviews.
Establishing proper insurance requirements and obtaining certificates of insurance that outline compliance with these requirements are an important risk transfer practice. This may reduce your chance of unknowingly accepting the liability of someone else or being exposed to additional liability stemming from the action of others.
Gathering certificates to simply confirm they are received is not sufficient. It provides no guarantee that all of the requirements have been met. But if you take the time to confirm the insurance requirements, limits, and endorsements on these certificates you can transfer exposures to your vendors.
Proactive and accurate management of this process is a critical part of a firm's risk reduction strategy. Yet properly managing certificates of insurance poses a significant administrative challenge. It is time intensive and complex.
How can you properly track these certificates? How can you make this process more effective and efficient for your organization? We recommend the following:
Require written contracts with every subcontractor, either by annual agreement for all work or by separate agreement for each project.
Do not allow subcontractors to enter a jobsite or start work until all contracts are signed and all risk transfer requirements are met including obtaining a certificate.
Maintain organized files, including the construction contracts, certificates of insurance, and additional insured endorsements.
Set up a suspense system, manual or automated, to track the certificates' policy expiration dates. This helps you to be able to contact the subcontractor and request a current certificate of insurance prior to expiration. The most effective solution would generally be to utilize a certificate management system. These systems offer a way to take work off your desk by handling the requesting of certificates, compliance verification, and follow up on non-compliant and expiring certificates.
Validating and tracking subcontractor and vendor certificates does not have to be the administrative burden that it once was.