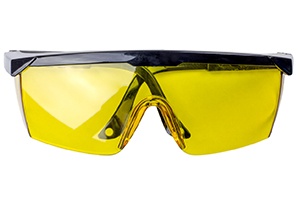 March is Workplace Eye Wellness Month. Work-related eye injuries are common and preventable.
According to OSHA and Prevent Blindness:
Over 2,000 people injure their eyes at work each day.
1 in 10 of these injuries require one or more missed workdays.
10-20% of work-related eye injuries will cause temporary or permanent vision loss.
Eye injuries cost over $300 million per year in lost production time, medical expenses, and workers' compensation.
With proper selection and use of eye and face protection, many of these injuries can be prevented. Personal protective equipment (PPE) is not the only solution. The use of guards and engineering controls will reduce eye injuries.
SELECTING THE RIGHT EYE PROTECTION
Should your employees be wearing safety glasses, safety goggles, face shields, welding helmets, or full-face respirators? It depends on the hazards. Once you've identified them, select the appropriate eye protection.
OSHA's Eye and Face Protection eTool is a great resource. The tool will walk you through the hazards and identify which types of eye protection are appropriate for each situation.
Keep in mind there may be multiple hazards present in a workplace at one time. If this is the case, you should select the PPE to protect your workers from the highest level of hazard.
MAKE SURE EYE PROTECTION FITS PROPERLY
Once you've identified the hazards and selected the appropriate eye protection, ensure it fits properly. Poorly fitting protection isn't going to be as effective.
OSHA requires the following:
Fitting of goggles and safety glasses needs to be done by someone skilled in the procedure. Prescription safety glasses need to be fitted only by qualified optical personnel.
Devices with adjustable features need to be fitted on an individual basis to provide comfort and proper positioning.
Dust and chemical splash eye protection need to form a protective seal when fitted properly.
Welding helmets and face shields must be properly fitted to ensure they will not fall off during operations.
COMPUTER SCREEN HAZARDS
In the age of computers, workplace eye wellness expands beyond safety glasses. Too much screen time is starting to take its toll. According to the American Optometric Association, some people may go beyond general computer eye strain and develop "Computer Vision Syndrome," a group of eye and vision-related problems that result from prolonged computer use. Symptoms include headaches, blurred vision, neck, and shoulder pain.
Eyestrain can be lessened and prevented by making changes to the computer workspace and by visiting an eye doctor. Here are a few suggestions on how to make the workspace more comfortable:
Place your screen 20 to 26 inches away from your eyes and a little bit below eye level.
Use a document holder placed next to your screen. It should be close enough so you don't have to swing your head back and forth or constantly change your focus.
Change your lighting to lower glare and harsh reflections. Glare filters on your digital screens can also help.
Use an adjustable chair.
Choose screens that tilt and swivel. An adjustable keyboard can also be helpful.
Computer glasses with yellow-tinted anti-reflective lenses block blue light, reduce glare, and increase contrast to help ease digital eye strain.
Eye protection works! The proper selection, fit, maintenance, and care, along with the implementation of guards and engineering controls, can help prevent eye injuries, and improve workplace safety.