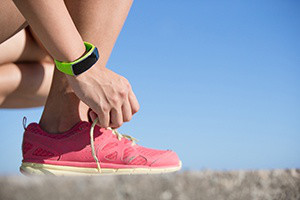 The Centers for Disease Control and Prevention recommends that adults get 150 minutes of moderate intensity physical activity each week. Research shows, and most individuals would agree, that engaging in regular physical activity, such as walking, enjoy the benefits of:
Reduced blood pressure

Lower blood cholesterol
Increased cardiovascular endurance
Improved bone strength
Burn calories and weight maintenance
What if there was a device available that could help someone measure their activity or send hourly reminders to get up and move to increase daily physical activity levels? And what would this mean for workplace wellbeing?
The American College of Sports Medicine has chosen wearable technology - including physical activity trackers, smart watches, and GPS trackers - as the # 1 fitness trend for the past 3 years. Approximately 33% of American consumers currently own a wearable. By 2018, 60 million physical activity trackers will be in use and sales are projected to surge to a $30.2 billion industry.


History Of PA Trackers
Physical activity trackers, or wearable devices, provide monitoring and tracking for a variety of metrics such as distances walked, speed, calories consumed/expended, and heart rates. They do so by using accelerometers and basic biometric data, such as height and weight. Some devices can even measure quality of sleep and send reminder alerts to get up and move. They provide personal feedback the user can use to set and meet goals.
They have evolved from the pedometer that clipped on waistbands to simple wrist bands. Now versions are available for shoes as well as high tech smartwatches. Most wearables are associated with an application or a web portal that syncs with the device for long-term tracking. They allow for sharing to private communities of friends, family, or co-workers or information can be sent out to the masses on social media platforms, which is where the appeal lies for most users.


Wearables In The Workplace
The 2017 Healthiest Employers® suggests employers are more committed than ever to health – and wearables are playing a role in their initiatives. 35% of employers include wearables in their well­ness strategies, which is a 10% increase from the 2015 findings. When asked, employers report the most important reasons for using wearables in their workplace wellbeing efforts as:
Improving the health of members (50.3%)
Behavioral change (41.9%)
Tracking steps (38.2%)
On average, 53% of employers report high initial and sustained interest in workplace wellbeing programs that include wearable technology, and due to favorable employee response, most employers report they intend to keep using wearable devices. Although employers are incorporating wearables into wellbeing efforts with the hope to lower health care costs, this data has not been validated by credible research.
Regardless, the wearables well­ness movement is on the rise. There is projected to be 13 million wearables in the corporate wellness market by 2018. Promoted by an outcomes based approach, wearable technology has a growing presence in wellbeing programs.


So What's The Problem?
Initially, users report they are more aware of their activity, more engaged with their health, and enjoyed the social component of wearables. Whether for workplace wellbeing or for personal use, physical activity trackers can help foster healthy behaviors.
Unfortunately, research shows that a device, on its own, will not change health behaviors over the long term. As time passes, as little as 12 – 24 months later, both engagement and participation wane and users stop wearing their devices.
Whether physical activity trackers are for personal use or associated with a workplace wellbeing initiative, there are plenty of fears about the kind of data collected, amount of data collected, what is being done with all the data, along with other privacy concerns.
For some, viewing their daily and weekly steps is rewarding and provides a sense of accomplishment. However, others find themselves comparing their steps achieved to others on their friends list. This leads many feeling discouraged and makes them unmotivated to continuing using their devices.


What Are YOUR Thoughts?
Strategies are being developed to identify ways to improve the effectiveness and how to create the conditions for an engaging approach for participants to continue using the devices.
Physical activity trackers are an interesting, fully integrable device that can provide data and trends. They're handy to see how active you've been during the day, remind you to get up to move, and monitor everything from energy level to how well you sleep. All of this data provides information that can be helpful to determine a base line and identify opportunities to improve wellbeing.
However, it's up to the individual to act on it. Remember, fitness trackers don't increase physical activity or lead to behavior change. You do.
Do you have a wearable device? If yes, is it associated with use in the workplace? How would you rate your use, engagement, and overall opinion of including wearables in workplace wellbeing? If you don't have a wearable, why not?