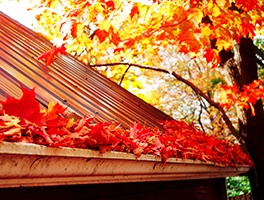 Don't wait until cold weather strikes or snow begins to fall to prepare your home for the harsh effects of winter. Autumn is a critical time for home maintenance! Consider these 6 tips to help prepare your home and property for winter weather:
1. Clean & Check Your Gutters
Clear out leaves and other debris from your gutters. Check gutters for damage. Are they securely attached to the house? Is water draining properly from them and not pooling? Clogged gutters and poor drainage can make winter's ice dams a lot worse! Be sure to follow these ladder safety tips or consider hiring a professional to assist.


2.
Get Your Furnace Serviced
Before the outside temperature starts drops any further, give your furnace some attention so it is prepared to run efficiently and safely all winter long! Replace your furnace filter. Have a professional inspect your heating system to help ensure optimal performance and resolve any issues.


3.
Seal Cracks & Gaps
Walk around your home and look for gaps between windows, doors, corners formed by siding, electrical outlets, phone lines, and outdoor faucets around your home. Caulking and weather stripping will prevent moisture from getting in between the cracks, as well as prevent warm air from escaping your house and cold air from getting in.


4.
Inspect Your Roof
Take a look at your roof. If you have a multi-story home or a steep roof, it is best to stay on the ground. You could use binoculars to inspect it. Look for missing, broken, or cracked, or curling shingles. When moisture gets under damaged shingles, extensive damage can occur. If you see any of these warning signs, contact a professional to get the roof repaired before winter weather strikes.


5. Check Your Chimney
Before you sit down to enjoy the warmth of a fire, make sure your fireplace is safe. Check the firebox for damage. Use a flashlight to look up in the chimney to make sure the damper functions properly. Consider hiring a professional to conduct an inspection and cleaning to prevent dangerous fires and injuries.


6. Prepare Your Pipes
To prevent cracked and frozen pipes outside, it is important to turn off the water going to your outdoor hose. Run the water until pipes are empty to prevent freezing. Exposed pipes and pipes that are located in exterior walls also could be at risk for freezing. Foam pipe insulation could be the easiest and most inexpensive way to prevent freezing. You also may need to re-insulate the exterior walls of your home to prevent freezing. The insulation not only protects the pipes, but it will help keep the warm air in and the cold air out and will ultimately save you money on your energy bill too!


Taking the time to inspect your home can save you time and money in the long run. Before you have to break out your winter coat and boots to protect yourself from the elements, make sure your home is protected too!