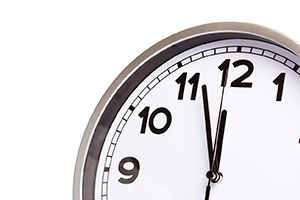 Time is money. How can you help your organization save both?
One way is to ensure you have an effective and accurate time and attendance system. Not only can this help save time and money, it can also enhance your employee experience!
Gone are the days of old school punch sheets, handwritten timesheets, and having to spend precious time trying to decipher employee time cards. Today's technology provides numerous options for more efficient and accurate methods of tracking time. There are a variety of systems available, but not all will be well-suited for your organization. Consider the following when choosing a time and attendance system:


Is it easy to use?
Learning any new technology can be tedious, but finding a system that is easy for all parties to use will result in less resistance from your employees. Clocking in and out shouldn't be a time-consuming process, so choose a system that makes it short, sweet, and simple. You also want to an approval process that will be efficient for your managers.


Does the system work with the structure and culture of your business?
It is not one size fits all. Different systems will work best for different companies. Perhaps you want a designated area with a kiosk that uses numbers, a slide card, or even biometrics that your employees use to clock in and out. Or if you have a workforce constantly on the move, your first priority may be a mobile-friendly system. Keep your organization's structure and culture in mind.

Will it prevent time theft?
A paper time and attendance system allows for more human error and makes it easier for employees to falsify their time sheets. Time theft could cost your company thousands of dollars each year. Transitioning to a more automated system can provide controls to help prevent this type of theft.


Will it be easy integrate with the rest of your HR functions?
Utilizing a time and attendance system that connects with the rest of your HR and payroll functions can provide significant benefit to your organization. An integrated HR platform streamlines processes – helping you deploy your energy to focus on what you do best!


Don't let attendance tracking bring you down. An upgraded system, especially one that is integrated with your HR and payroll functions, can help your organization more accurately and efficiently track time, save time and money, and improve your employee experience!