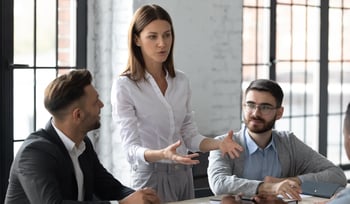 "Leadership is the art of getting people to want to do what must be done." - Jim Collins
One of the marks of a great team is decisive leadership. Fostering organizational and team health is a leader's #1 job, as no team will ever be healthier than its leader.
Let that sink in. Ms./Mr. Leader, how healthy are you? Before alignment can occur within your organization, ensure you've put in the work on yourself.
When it comes to organizational health, leaders should play the long game. That requires fixating on these four disciplines from Pat Lencioni's The Four Obsessions of an Extraordinary Executive.
Build and maintain a unified leadership team: A cohesive leadership team trusts each other. They're able to engage in constructive conflict and still commit to group decisions. Accountability is evident and often peer-driven in healthy organizations. Lencioni says, "One of the best ways to recognize a cohesive team is the nature of its meetings. Passionate. Intense. Exhausting. Never boring."
Provide clarity: As Lencioni writes, "If everything is important, nothing is." Healthy organizations clarify values, vision, purpose, strategies, goals, roles, and accountabilities. Clarity brings a sense of unity around everything they are doing.
Overcommunicate: Healthy organizations align their people by clearly and repetitively communicating their vision, values, and goals. They help their team understand why these are important and what it will mean to them. No one should wonder what top leadership is really thinking or planning. Lencioni says all leaders – of the company overall, departments, team, and units – can drive this in their respective areas: "You don't need to wait on the CEO."
Install people systems that reinforce everything: Healthy organizations have simple structures around the way they make decisions, hire and fire, reward and engage with clients or customers. Lencioni refers to this as "fortifying the clarity."

At Gibson, I'm proud of the way our leaders are focusing on these four obsessions.
We're overcoming our default human setting of "Midwestern Nice" (avoiding conflict in the name of niceness) and rewiring ourselves to appreciate that true kindness is built on truth and honesty. And we can still deliver that nicely!
We know where we're going and why it matters. We build annual goals and break those down into quarterly rocks and weekly to-dos. We monitor our progress and course correct along the way, always keeping our sightline on the long-term prize and the impact we're making for our people, our clients, and our communities.
We spend a great deal of time directly communicating to our people: live, on Zoom, over the phone, and through email. We repeat things over, and over again. We use a common language to bring clarity to all that we're doing.
We have an operating system. It helps us establish and stay focused on our long-term vision. We have a process and cadence for goal setting and rock creation. We have accountability through a system of quarterly one-on-one conversations between our people and their direct supervisor. We're committed to having the right people in the right seats by using our values to hire, promote, and (sometimes) part ways with people.
While our work will never be done, the journey continues to be exciting and rewarding at our employee-owned company. We're helping our people find their edge and go on to own it in ways that are far bigger than us.
I appreciate Lencioni's work and the optimism it inspires in me. As he says, "We can become extraordinary leaders if we only embrace the fact that success is not so much a function of intelligence or natural ability, but rather of commitment to the right disciplines."
So, we will continue to obsess over the health of our company, as our infinite game plays on.