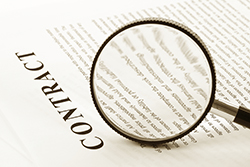 You would not sign a contract without reading it first. And this means a lot of reading if you are a contractor. So, how are you managing this review process? Do you understand all the implications a contract could have on the future of your business?

Most companies will say they review all contracts with the help of their attorney. This is the optimal path, but we need to throw a wrinkle in it. When was the last time you involved your insurance broker in that review process?

You trust your insurance broker to review a key contract you utilize every year: your insurance policy. They ensure your company's risk is properly transferred to the insurance carrier using the most up-to-date coverages, endorsements and enhancements available in the market. But when it comes to reviewing and updating insurance requirements in a contract, the insurance broker is often left out of the picture. Now your attorney is forced to be the legal expert AND the insurance expert.

The modern contract review process involves a meeting between your attorney and insurance broker on an annual basis at a minimum. This collaboration helps ensure you are properly addressing all risks you face before you sign a contract.

Let's look at some common scenarios in which this updated contract review process could have prevented significant losses.
Scenario 1: Additional Insured Requirements

The insurance section of a contract typically contains a requirement to name a party as an additional insured. Most believe that simply having an additional insured requirement is enough. However, insurance policies vary significantly on how they address coverage for additional insureds. A contract needs to be precise in explaining how it expects this coverage to apply. Common mistakes include a) failing to ask for additional insured status altogether, b) failing to state which party's insurance policy applies first, and c) failing to ask for the correct additional insured endorsement.

In this first scenario, a general contractor required their subcontractor to name them as an additional insured on their general liability insurance policy. They did not request that their subcontractor's coverage be primary over their own coverage. When the general contractor was sued due to an accident on the jobsite, the subcontractor's insurance carrier refused to indemnify the general contractor until their own liability policy was exhausted. The general contractor ended up paying the claim with their own policy for $150,000.
Scenario 2: Specific Coverage Requirements

A contractor was performing excavation work in a busy part of town. Their contract required a pollution liability policy to be purchased, but they failed to catch the requirement in the contract and did not purchase the coverage before starting work. The contractor accidentally crushed a sewer line causing sewage to back up into several businesses nearby. This resulted in lost revenue to area businesses and clean-up costs in the amount of $80,000. The contractor had to pay the loss out of their own pocket due to exclusions for pollution in their general liability policy.
These scenarios change on a regular basis. This is why it is important to facilitate a meeting between your insurance broker and attorney on a regular basis. They will be able to discuss legal updates and changes in the insurance marketplace that affect the contracts you sign each year. You will gain a broader view of the exposures you face and receive knowledge from your trusted advisors on the best ways to manage and transfer risk.