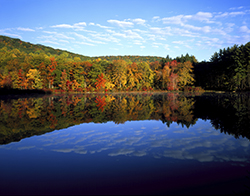 "Dear Sir or Madam, will you read my book? It took me years to write, will you take a look?"
- The Beatles, Paperback Writer
Over the summer, I took a break from writing my weekly blog. It was a sabbatical of sorts so I could focus my energy and effort on – go figure – writing. In this case, it was to tell a story much bigger and more personal than a few blogs could do. And while it didn't take years to write, it's one that certainly developed over a number of years.
I didn't do it all myself. The writing is a joint effort with a friend of mine, Larry Linne. He's been a part of writing two books – Make The Noise Go Away and Brand Aid. In fact, without Larry pushing me over the past year, I'm not sure I would have taken this project on. I've also had a number of friends, family, and colleagues supply critical support, ideas, and feedback along the way.
Larry has been an awesome guide as we captured a story about the organizational transformation that's possible when clarity takes hold and change is embraced, driving new levels of growth and collaboration. It also emphasizes the leadership virtues of deep introspection and steely resolve.
It's been fun to reflect, think, study, and write over the past four months. As most of you know, my day job keeps me pretty busy so most of this occurred in the evenings and on weekends. It wasn't easy but it seldom felt like work either.
The process of taking some time to reflect gave me a renewed appreciation for the following insights:
To look backward for a while is to refresh the eye, to restore it, and to render it the more fit for its prime function of looking forward. ~Margaret Fairless Barber, The Roadmender
By three methods we may learn wisdom: First, by reflection, which is noblest; second, by imitation, which is easiest; and third by experience, which is the bitterest. ~Confucius
Time is the wisest counsellor of all. ~Pericles
"Life moves pretty fast. If you don't stop and look around once in a while, you could miss it." ~Ferris Bueller, Ferris Bueller's Day Off
What's The Risk?
The risk for today's leaders is that in their intense pursuit of all that lies ahead, or even their struggle to fight through the minutia that comes their way, they forget to pause every now and then, and just think. The value in reflection - to you, your organization, your family, colleagues, partners, and friends - is beyond measure.
The excuses are many and feel very real: tight deadlines, too much to do, a seemingly unending assault on our time by people and organizations all around us. Often we feel guilty when we even consider carving out time for ourselves. The truth is that many people are counting on you… to be your very best for them. That won't happen unless you take time for yourself first. Strangely, by being a little selfish you can be more generous.
As for the book? Well, as McCartney sang, I'll be writing more in a week or two.