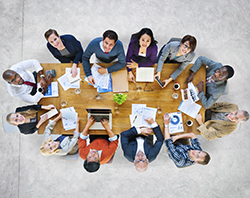 Do you like what you do? According to the book, Well Being, written by Tom Rath and Jim Harter of Gallup, only 20% of Americans answer that question with a strong "yes". This statistic is startling when you consider how important employee engagement is, not only to the health of an organization, but to individual health.
So, What Is Employee Engagement And Why Does It Matter?
If you attended Gibson's 2014 Risk Management Forum on Workplace Culture as an Emerging Risk, this was at the heart of the discussion. Forbes posted an article in June of 2012 by contributor, Kevin Kruse, on this very topic. Kruse defined employee engagement as "the emotional commitment an employee has to the organization and its goals."
Included were examples of behaviors of engaged employees such as working overtime without being asked to complete a task and taking care of the physical appearance of the workplace when it's "not your job." The article also stated that employee engagement should not be confused with employee satisfaction or happiness, as neither one indicates an employee's level of motivation or involvement.
Why Should You Care About Employee Engagement?

Engaged employees:
Are more productive
Absent less
Have fewer workplace accidents
Are more resilient when change occurs within the organization
Are healthier than their disengaged co-workers
While studying the outcomes of engaged employees globally, Gallup found that engaged employees are typically in better health and have healthier habits than their non-engaged counterparts. Furthermore, engaged employees had lower rates of chronic disease, such as high blood pressure, diabetes, obesity, depression, heart disease, and hyperlipidemia than disengaged workers.
In addition to measuring levels of engagement, Gallup also categorizes workers as thriving, struggling, or suffering based on how they rate their current and future lives. In one study, Gallup discovered that employers spent significantly less in health care costs on employees who were categorized as "thriving". To read more about the Gallup study, click here.
And if the impact of engagement and employee health aren't enough to convince you that this is worth investigating, consider the impact on business health.
Employers with high employee engagement:
Have higher customer ratings
Higher productivity
Higher profitability
Less turnover
Fewer safety incidents
Less absenteeism
Higher quality (less defects)
Higher earnings per share
How Do You Measure Employee Engagement?
Measuring employee engagement is not always easy. Gallup has led the way in measuring employee engagement in businesses worldwide with its Q12 survey.
I know what is expected of me at work.
I have the materials and equipment I need to do my work right.
At work, I have the opportunity to do what I do best every day
In the last 7 days, I have received recognition or praise for doing good work.
My supervisor, or someone at work, seems to care about me as a person.
There is someone at work who encourages my development.
At work, my opinions seem to count.
The mission or purpose of my company makes me feel my job is important.
My associates or fellow employees are committed to doing quality work.
I have a best friend at work.
In the last six months, someone at work has talked to me about my progress.
This last year, I have had opportunities at work to learn and grow.
When you read these statements, the overwhelming "theme" is one of being valued. Perhaps that's a place to start—ask your employees if they feel valued. And if you don't like the answer, be prepared for how you can change it. Your employees and your organization will be healthier for it!