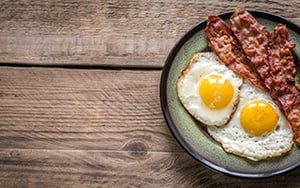 The story is told of a pig and a chicken journeying together. The chicken grew hungry and recommended they stop to make some bacon and eggs. The pig replied that while it sounded like a great idea, there was a fundamental flaw in his plan. He went on to explain to his feathered friend that to make bacon and eggs, a chicken simply needs to be involved, but for a pig, it requires total commitment!
Is your leadership more aligned with a chicken or with a pig? That is, are you merely involved or are you totally committed?
In this two-part blog series, we will explore two leadership qualities that mark a 'bacon-level' commitment: Vision and Sacrifice.
First, let's look at Vision…
On my first day at Gibson, I had lunch with our CEO, Tim Leman. Now, we had an exciting adventure ahead of us...expanding Gibson's footprint and building our presence in a new market. This was something Gibson had done with other markets, so I came in excited to get a plan in place and start building brick by brick. While I was focused on tactics, it would be a simple question asked during lunch that would have the biggest impact on our new adventure.
"So, Brian, what do you want this to look like in 5 years?"
The answer to that question helped frame the first six months and continues to shape my daily habits and activities. Having a clear vision is paramount to accomplishing my goals.
There is a well-known Proverb that says, 'Where there is no vision, the people perish…' You likely have a vision for your organization, but are you effectively connecting your vision to your people? Bacon-level commitment requires you to go beyond simply establishing a vision and posting it on a plaque in the lobby.
Consider these questions and ideas...
How can you enhance your communications to better engage your people with your vision?
Host an annual 'State of the Union' type event. There is tremendous value in getting your entire team in one room once per year to share the strategic vision of your organization. Yes, it is challenging and may very well be expensive, but I'm not sure there is anything more effective at demonstrating the importance of this messaging.
Break bread with your employees. Depending on the size of your team, it may not be feasible to have lunch with every member of your team, but what if it was? What if you invested time to share a meal with your employees? Maybe one at a time. Maybe in small groups. Maybe it's a company picnic. There is an intimacy that occurs when sharing a meal with someone. Invest the time to make that connection.
Simplify the messaging in your environment. What if Bo Schembechler had framed a 700-word, bullet-pointed essay about perseverance? Would his Michigan football players have taken the time to study it and been logically persuaded to continue to endure his grueling training camp? Probably not. Instead he hung a large sign that read, "Those who stay will be CHAMPIONS." A simple, clear vision laid out to reach the hearts of his players.
Embrace innovation. The economy in which we work requires the effective utilization of innovative ideas and tools. There is not one silver bullet messaging tool that works for all your employees. Use email and mobile technology and web-based platforms and physical collateral, and do it repeatedly. Don't create noise. Create engaging messages delivered in a meaningful way.
How can you ensure that your people know how their daily work contributes to your vision?
Recognize. Recognize. Recognize. Ensure recognition is simple, timely, and specific. A notecard is among the most effective tools; mail it to their home or leave it on their desk so they get it the next day. A voicemail left on their office line that they receive in the morning is also effective. Whatever vehicle you use to deliver the message, it's critical to connect the employee's specific behavior to the vision. What did they specifically do that moved the organization toward its vision?
Tell stories. We know facts tell and stories sell. If you want to 'sell' your team on the organization's vision, you must discover the stories that are developing every day inside your teams. Get in the trenches and get to know the people driving your vision forward. The nurse working in labor and delivery is not just a nurse earning a paycheck. She's a mother of four who's endured seven hard years of part-time schooling to become a nurse, because she wants to make the same impact that her nurses made during the deliveries of her own children. Uncover the story behind the story.
Instill visionary leadership throughout the organization. Even though you may sit in the visionary seat of your organization, vision casting responsibility falls on everyone in a leadership role. Coach your leadership team on how to effectively cast a vision. Front-line leaders have ample opportunity to make the connection between the vision and the daily work. All the tactics mentioned above should be cascaded down from the senior leader to each layer of leadership.
What's The Risk?
To make bacon, the pig must fulfill its lifelong vision. It's not an ordinary, routine activity. It's not a short-term, daily task. It's a long-term, compelling purpose.
Bacon-level commitment casts a vision that raises your people out of the mundane and into the meaningful. It allows them to dream, to innovate, and to imagine. It engages their hearts and minds and it gives them significance.
The risk is not failure of accomplishment but failure of significance. Cast your vision with bacon-level commitment and lead your people out of mediocrity.
You have a choice on how you deliver your vision…like a chicken or like a pig.
Do you want mediocrity or significance?