Flashback Friday: Originally published in 2017, this blog is one of our most popular and still very relevant today. I've seen many people share recently about the books they read in 2021 and what they hope to read in 2022. I hope this blog gives you a few ideas as you complete your must-read list for the new year!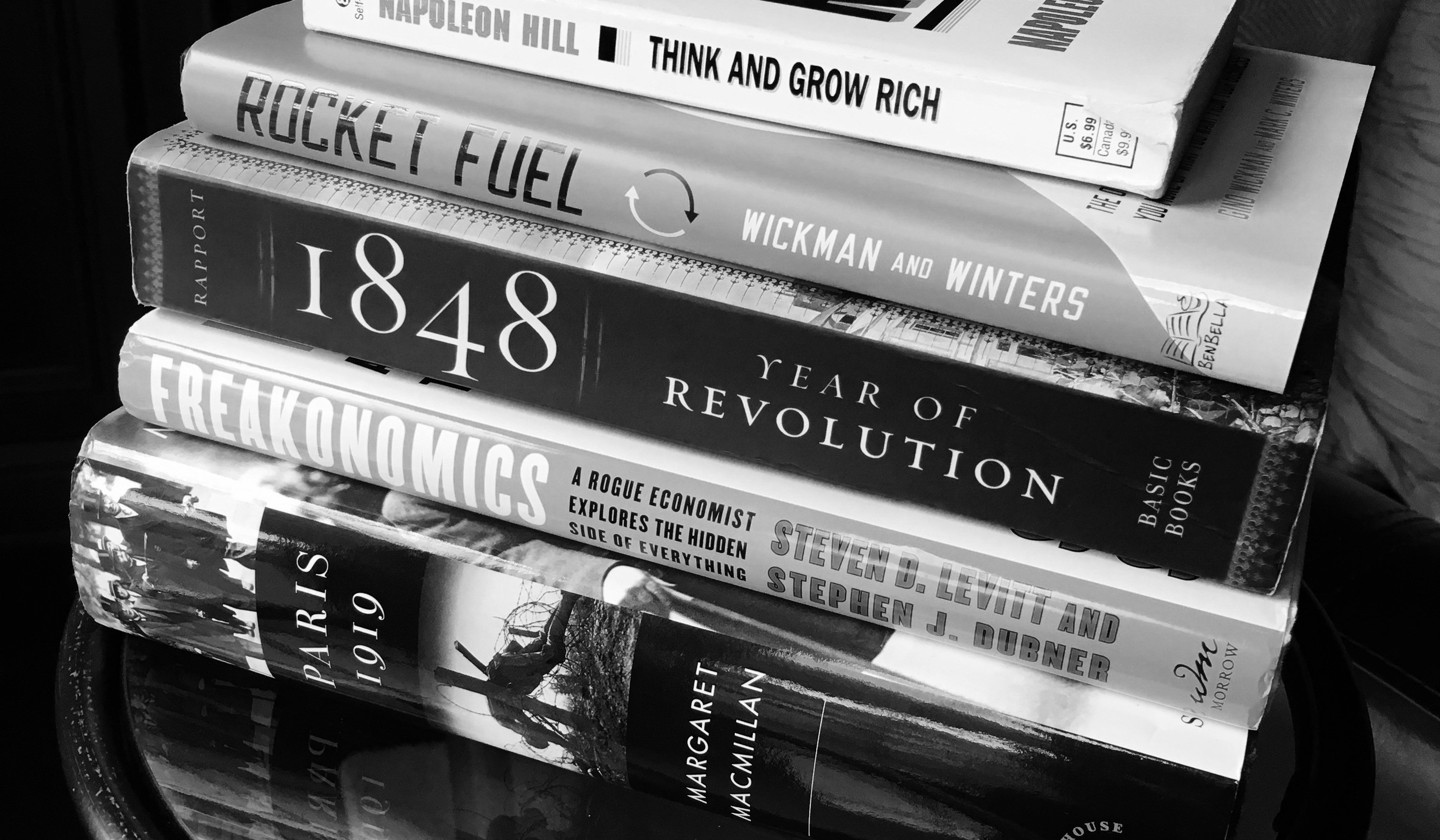 There are plenty of book lists out there. This post is a little different. While I've got examples of specific books for you, more importantly I want to emphasize the kind of books you should read. As Japanese author Haruki Murakami has written, "If you only read the books that everyone else is reading, you can only think what everyone else is thinking."
With that in mind, pick your own favorites, but make sure you've read at least one that:
1. EXPANDS BELIEF IN YOURSELF.
In my early 20s a mentor of mine, Jim Spuller, recommended I read Napoleon Hill's Think and Grow Rich. Warning: Given the book was written in 1937, the dialogue is a little strange and mirrors the male-centric tone of that era. But it literally blew my mind. I felt this amazing sense of possibility and limitless potential. I had no fear. It was a major catalyst in my decision to move a few thousand miles across the country to take on a new role in a new city where I didn't know a soul.

2. TURNS CONVENTIONAL WISDOM ON ITS HEAD.
When I first read Freakonomics by Levitt and Dubner I was part amazed, part confused, and part offended. It forced me to think about why people choose the things they do and challenged some long-held beliefs and stereotypes. Today, I still enjoy Dubner's regular podcast by the same name.


3. CHALLENGES YOU TO SEE YOURSELF FOR WHO YOU ARE (AND EMBRACE IT).
At Gibson we've been implementing Gino Wickman's concepts from Traction. Yet it was actually another book of his, Rocket Fuel, that helped me realize my strengths were in what he describes as the "visionary seat" and not that of the "integrator seat." This prompted me to give up the integrator role and responsibility to another leadership team member and focus my efforts where I am most fulfilled and have the greatest impact.


4. PUTS EVERYTHING IN PERSPECTIVE.
Scott Nichols, a friend of mine who runs a large truck dealership, really likes The Monk Who Sold His Ferrari by Robin Sharma. It's the story of a lawyer confronting the crisis of his out-of-balance life and shifting to one filled with abundance and joy. It has some great habits and routines to consider.


5. LEVELS THE PLAYING FIELD FOR THE LITTLE GUY.
Many people now know about Michael Lewis' Moneyball thanks to the movie with Brad Pitt and Jonah Hill. A few simple theories from a baseball junkie just as computers were making early versions of "big data" possible turned into an industry altering phenomenon. Our gut feelings and emotions can deceive us. What looks pleasing to the eye, be it the muscular first baseman with a pretty swing or the well-groomed and sharply dressed salesperson, often doesn't pan out on further review. Getting past tradition and reviewing the facts can create value your competitors can't see.


6. PROVIDES CONTEXT FOR THE PRESENT BY UNDERSTANDING THE PAST.
The world seems like a messy place today. Yet many of the global flashpoints, with their chronic fighting and seemingly unsolvable tribal, religious, or ethnic conflicts, made a lot more sense to me after reading Paris 1919 by Margaret Macmillan. In the days after World War I, the world leaders from the "winning side" got together to carve up the globe. Lazy, vengeful, and ill-informed decisions split numerous cultures and created many of the explosive fault lines that exist today. And if you want to know the genesis of World War I, read Mike Rapport's 1848: Year of Revolution. It tells the many stories from the mid-1800s of the poor and working class and their attempts to wrestle control from the ruling elites throughout much of Europe.


7. KEEPS YOUR MOST IMPORTANT RELATIONSHIP FRONT AND CENTER.
My YPO forum mate Nate Golm likes Francis & Lisa Chan's You and Me Forever. "It's a great eternal perspective towards marriage," wrote Nate. Another friend suggested Gary Thomas' A Lifelong Love: What If Marriage Is About More Than Just Staying Together? No matter the book, the point here is that focusing on making your number one partnership the best it can be is one of the most meaningful and impactful things you can do.


8. OFFERS A LESSON ON THE INDOMITABLE POWER OF GRIT, RESILIENCY, AND PERSISTENCE.
Resiliency has carried me though many challenges in life. My friend Steve Pahl finds inspiration in Cormac McCarthy's The Road and Charles Frazier's Cold Mountain. Says Steve, "Both are unrelentingly bleak. Both the man (unnamed in The Road) and Inman (in Cold Mountain) are driven by an abiding faith in their ability to overcome the longest of odds to protect or find family. At each calamitous turn in their journey they dig deep into that faith to keep their heart and mind focused on a goal, an objective that is undeterred by daunting setbacks they attain."


9. TAKES YOU AWAY TO ANOTHER PLACE.
"I find reading fantasy, particularly trilogies, like those by JRR Tolkien or by Mary Stewart, take my soul away to another world. Especially in the summer when I might have more time to read several days in a row," wrote Greg Downes in an email.


10. TEACHES THE SIMPLE GENIUS OF FOCUSING ON THE MOST IMPORTANT THING (AND BEING GREAT AT IT).
Joe Calloway's Be The Best At What Matters Most helped me realize that flash and sizzle are exciting and attention-grabbing but simple and straightforward usually wins the day. Clients, friends, employees, or family all just want to know they can rely on you to deliver well the thing they need most from you.


11. EXPLORES YOUR FAITH AND VALUES.
In The Purpose Driven Life, Rick Warren writes that we should look to our Creator for our ultimate purpose rather than seeking meaning from within. My friend Shery Roussarie agrees, "Focusing outside ourselves brings down barriers of myopia. It opens our hearts and minds to ideas that may not be of our own creation (very little is), while concurrently involving others in the act of strategy and creativity. This allows plans grander than anyone, alone, could devise and built-in advocates to promote and support. Successful plans and loyal advocates both sustain."


12. YOU WROTE.
Your story is a lot more readable and interesting than you think. Putting it into words can be a little scary at first, but ultimately a great confidence building exercise. I started with journaling, which lead to blogging, and then ultimately writing rEvolution: Turn Crisis Into Clarity And Ignite Growth with Larry Linne. Writing has helped me better organize my own thoughts, more fully absorb what I read and share the things I've learned.
What's The Risk?
I've never heard anyone say they've learned all they can in life and therefore don't need to read. Or that they don't enjoy a good story. Instead, it's usually something about being "too busy" because they "don't have any time for that."
I get it. Believe me! Yet it's important to remember that no matter the reason you've stopped taking in new information, you still have stopped. As Charlie Munger, Vice Chair of Berkshire Hathaway stated, "In my life I have known no wise people who don't read all the time. None. Zero."
It's time to open your Kindle app, download an audiobook, or grab an old paperback, and just start in. There are many great books to read in each of these categories. And new ones being written all the time. Find the one that fits you.
The power of opening a "new file" and challenging your thoughts and beliefs will ensure you don't become what Thomas Aquinas described as a "person of one book."
Okay, now it's your turn. Do you have a favorite book in one of these categories? Please share!