Today we're sharing insight from guest blogger Amy Cooper Collier, Co-Founder and Executive Director of Girls on the Run Michiana. We hope you enjoy Amy's wisdom and perspective.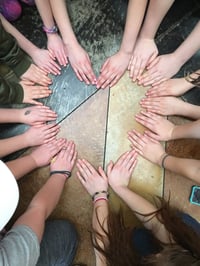 The good news for driven, always-improving, Type A leaders, is that your success may well be rooted in that Type-A soil. You have vision, enthusiasm, and a commitment to ever-higher standards. You work tirelessly to make a difference in your company, your community, and your world. A lot is expected of you: crystal-clear vision, inspirational motivation, extensive knowledge, wise perspective, up-to-date skills, encouraging guidance, authentic affirmation, solid decision-making, and the list goes on and on. Leadership isn't for the faint of heart. In my work with an organization that offers girls the skills and tools to live joyful, healthy, and confident lives, I'm particularly tuned into the challenges that girls and women face as they seek to reach their personal and professional goals. One such challenge is that from middle school to the boardroom, many struggle under the weight of unrealistic internal and external expectations. Women today are not only expected to be successful, if not perfect, in traditionally female realms of beauty, motherhood, and homemaking. They are ALSO expected to succeed by traditionally male standards of education and career as well. This is exacerbated by today's social media culture where comparison runs rampant. Women in leadership roles are achieving more than ever, but the cost to their physical, mental, and emotional selves is often far too high.
Although I work primarily with girls and women, it's important to mention that many men I know - particularly those committed to gender equity - have shared that they are certainly not immune to expectation overload. While every individual will differ in her or his approach to the stresses of life and leadership - men are typically socialized to appear always confident and in control, while women are all too familiar with the never-ending pursuit of perfection and the lure of constant self-criticism for never being "enough." Is there a way out of this self-destructive spin-cycle?
My experience is that the antidote is two-fold: embracing authenticity and nurturing self-compassion.
What does it mean to be an authentic leader? It begins with accepting the reality that we can't do it all - not sustainably and long-term anyways. An authentic leader sheds the façade of being in total control, of always having the right answer, of excelling in every facet of leadership and life. Far from being weak, insecure, or lazy, she celebrates her successes while remaining intentional about continuing to learn and grow at a reasonable pace. She recognizes that growth is a lifelong endeavor. She knows that perfection is not a valid destination, nor a worthwhile journey.
Self-compassion makes authenticity possible. In her recent book Enough as She Is, author and researcher Rachel Simmons writes that self-compassion means "no matter what happens on the other side of a risk we take, or setback we experience, we know that we are enough." Let that sink in for a moment. Self-compassion is precisely what makes it possible to take risks, to make mistakes. A self-compassionate leader resists the temptation to use criticism or shame as a means to motivate or protect herself. Her practice of self-compassion allows her to see others in the same light, to recognize and celebrate others' gifts and strengths, to inspire change rather than demand it, and to remember the difference between "leader" and "boss." A self-compassionate leader also recognizes that every leader has likely shared her struggle at some point, perhaps many times over. In other words, leadership can be difficult. It doesn't mean you're doing it wrong.
An authentic, self-compassionate leader comes to believe that even as she is learning and growing, she is indeed already "enough." She has such confidence in this conviction that she can bring her full self to her leadership role – her own personality, her unique strengths and, yes, even her shortcomings. Through her own practice of authenticity and self-compassion, she finds her own joy, encourages others to do the same, and cultivates a growth-mindset within her team. In recognizing she is indeed "enough" as she is, she frees herself to live more fully and, ironically, to continue to learn and grow.
What's the Risk?
There's a significant risk in not practicing authenticity and self-compassion: pressure, fear, tension, exhaustion, and an organizational culture that generates more of the same. Without authenticity, you cannot bring your full self to work. When you expect yourself to foresee every problem, to make the best decision every time, or to make everyone happy, it's easy to end up leaning far off balance, arms circling, in a futile attempt to avoid a fall. Simply put, without authenticity, you lose yourself. Without self-compassion, you lose your capacity to take risks. Without the possibility of failure, lightness and fun begin to disappear as well.
It would be unfair to deny the risks that also exist in an authentic and self-compassionate model of leadership. Perhaps especially in leadership, authenticity and self-compassion can feel dangerous. Authenticity often walks hand in hand with a degree of vulnerability. The reality is some people just won't get it. The individual who lives under the heavy weight of her own perfectionism and self-criticism is likely to view an authentic and self-compassionate leader as weak. But wearing the mask of perfection or criticizing yourself before others can do so is no way to live. In fact, building an organizational culture of genuine authenticity and self-compassion may be one of the strongest and most courageous things a leader can do, opening the door for everyone to a more joyful, healthy, and confident path forward.
This content was written and shared by guest blogger, Amy Cooper Collier.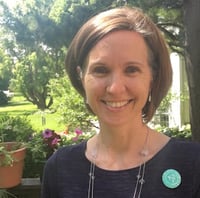 Amy Cooper Collier, MS, is the Co-Founder and Executive Director of Girls on the Run Michiana, a non-profit organization that utilizes a fun, physical-activity based curriculum to inspire 3rd-5th grade girls to recognize they are "enough," to live with authenticity, and to practice self-compassion. Amy holds degrees from the University of Notre Dame and Colorado State University. Her career journey has also included many varied opportunities for growth as a family therapist, middle school teacher, high school counselor, high ropes course facilitator, and home educator. Together with her fun and fabulous husband, she continues the daily practice of authenticity and self-compassion as the parent of two amazing adolescents.