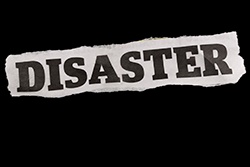 What comes to mind when you think DISASTER? A power outage, a building fire, a tornado that levels your facility, or even a hurricane knocking out the entire region?
Large or small, when disaster strikes, the only way you will be ready is to have the right plan, a quality response, and a comprehensive approach. This will ensure your ability to stay in business. As you prepare, don't limit your thinking when defining disasters.
di·sas·ter: a sudden calamitous event bringing great damage, loss, or destruction; a sudden or great misfortune or failure
Traditionally we relate disasters to extreme weather events. Tornadoes, hurricanes, flooding, winter storms, wildfires. These natural disasters can bring a complete range of damage – from minimal to catastrophic. But are you considering all angles of extreme weather? All that could result from such a disaster?
For example, a winter storm may bring difficult driving conditions and wind damage, but it could also result in roof implosions, frozen and burst pipes, carbon monoxide exposure, and even travel bans preventing your staff from getting to work. Being prepared to handle any disaster requires a comprehensive plan.
Weather alerts can keep you updated on what severe activity threatens your region, so there is at least some warning available for many natural disasters. But what about more isolated events and unpredictable events? You think they won't happen to you, but they can. These types of events can happen anytime, anywhere.
A gas leak occurs, evacuating your building and making it inaccessible.
A vehicle crashes into your building.
Your computer system is hacked.
Nearby construction work causes a power outage.
A water pipe bursts and floods your office.
Protest or unrest occurs in your city, blocking access to your building or making it unsafe to be there – consider the businesses impacted by the situations in Ferguson, Missouri.
A pandemic strikes your region.
What if you have a critical business function that relies solely on a vendor? A disaster can also relate to incidents impacting your vendors, interrupting your supply chain. Perhaps your phone system is hosted by a company on the East Coast and their operations are crippled due to a hurricane. What happens to your system? Though the hurricane never threatened your physical location, its impact can be felt thousands of miles away.
You cannot possibly be prepared for every disaster. But by broadening your definition of disaster, you can start on the path to creating a comprehensive disaster recovery plan. Such a plan will help you put the foundation in place to respond in any situation and battle through adversity to continue serving your customers.