Today we're sharing insight from guest blogger Brandon Nettrouer, a 2015 Gibson Summer Associate. We hope you enjoy Brandon's perspective and wisdom!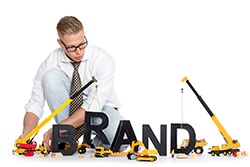 During my internship I've had the opportunity to work in the Business Group, a team focused on serving small business clients. I've spent a considerable amount of time learning about small businesses – what makes them tick and the risks they are facing. Through my observations and research of 800+ small businesses, I came across several attributes distinguishing successful companies from others.
What holds some businesses back? The popularity and usage of the internet and social media have soared. Consumers have an increased devotion to their own personal phones and devices. With these technological and societal changes comes the opportunity for small businesses to step out of the shadows of big business and raise awareness of their brand. However, only few are taking advantage of it.
There can be numerous complicated factors, but these three stood out to me – lack of website, minimal or no social media presence, and not utilizing young talent. Taking action to correct these pitfalls can help small businesses build their brand, and in turn assist in developing their company.
Lack Of Website
Without a website, small businesses can become overshadowed by companies with a developed online presence. Potential customers in need of a product or service conveniently look on the internet for a business' contact information. Secondary sources might have a small business' information, but they're often outdated, incorrect, and not fully trusted. Having a website gives legitimacy to small businesses and helps to raise awareness of their brand.
How can you maximize your website's potential?
Post pictures of the services you offer or the products you sell. The saying "a picture is worth a thousand words" applies to website too!
Include information about your company's history – get people engaged in your story!
Are you involved in the community? Be sure to incorporate this involvement into your website. It is a way to show customers and prospects your commitment to serving those in need.
Add character to your website by including a personal note from the owner(s) and pictures of the staff.
Use your website not only as a way to show what it is your company sells, but also to tell your story. People have a sincere affection and appetite for small business—feed their appetite!
Websites can seem like an expensive endeavor. Yes, to get advanced features and the highest quality website there are costs. But there are also numerous free or low cost website builders available to get you started. Without a website you can severely limit your company's reach and inhibit your brand's growth.
Minimal Or No Social Media Presence
Social media has taken the world by storm. It is a great way to connect with customers and prospects – it can be an incredible tool for your small business! There are risks associated with using social networks, but there are also significant risks of NOT embracing social media.
Beauty salons post pictures of their customers and their new haircut. Bakeries show the sweet treats they've developed. A local automotive shop takes pictures of the recent vehicle they restored for a customer. A small contractor shares pictures of the back porch he created. The possibilities are limitless.
You don't have to have a big budget or marketing team to get involved on social media. Accounts can be created at no cost. There are also low-cost options for advertisements should you be interested.
The largest cost of social media is time. To get the most out of social media, you do need to learn how to use it properly and spend time interacting with your customers. There are an abundance of resources available online to teach you how to use each network, advice for what to post, and tips for maximizing your reach. I'd recommend beginning with the help centers for each network – there is a vast amount of advice available! You can also check out our Gibson blogs about 8 Social Media Mistakes To Avoid and Dealing With Negative Feedback On Social Media.
Facebook, Twitter, LinkedIn, Instagram, Pinterest. Not sure where to start? Find out where your target audience is! You don't need to try and master every social network, instead focus on the networks your audience uses.
Not Utilizing Young Talent
Feel like you don't have the time or capacity to create and maintain a website and social media presence? Have you tried looking to young talent to help out? High school or college interns could be quite helpful with these projects. And they could even help educate your team on how to use the technology.
Young students are thirsty for an opportunity to practice their major or intended major on a fundamental level. They want something of merit to put down on a resume, college application, or a competitive scholarship application. The expectation of modern day high school students to transition to college immediately after graduation has created a more competitive pool of students—and they want internships!
How can you find young talent? Call local high schools, colleges, and universities. Reach out to teachers and professors in business and marketing departments. Inform them of the opportunity you have to extend to their students. It could be an internship or perhaps partnering for a class project.
Make sure you have a plan for the student(s). There is nothing worse for an intern than having too little to do and not feeling challenged. They are seeking the experience – provide it to them! In turn, you can receive quality work from individuals who have grown up on the technologies you are trying to learn.
As a small business, you should take action and develop a website to showcase who and what your business has to offer. Create a social media account to connect with potential customers on an entirely new level. And utilize the bright, Wi-Fi connected young minds of interns to promote what matters most to your business.
Brandon is a 2015 Summer Associate at Gibson. He is entering his senior year at Indiana State University, majoring in Insurance and Risk Management. He is actively involved in numerous organizations and groups at ISU including Gamma Iota Sigma, an international collegiate risk management, insurance, and actuarial science organization.